The U.S. Navy and Boeing [BA] flew two autonomously controlled EA-18G Growlers using a third aircraft as a mission controller in late 2019.
Boeing spokesman Justin Gibson told Defense Daily the autonomously controlled Growlers were first modified over the summer in 2019, then flight testing began in September. This full demonstration occurred in late 2019 as part of the Navy Warfare Development Command's annual fleet experiment (FLEX) exercises.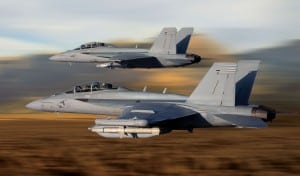 The flights "proved the effectiveness of technology allowing F/A-18 Super Hornets and EA-18G Growlers to perform combat missions with unmanned systems," Boeing said in a statement.
The flights occurred at Naval Air Station Patuxent River, Md. Boeing said 21 demonstration missions were completed over four flights.
Gibson explained this effort involved three Growlers modified to support an open architecture processor (prototype DTP-N) and advanced networking (prototype TTNT), "which allowed for two of the Growlers to be transformed into unmanned air system surrogate aircraft."
In these tests there were safety pilots in the autonomously-controlled Growlers who performed take-off and landing.
The "unmanned" aircraft were flown in multiple preset formations and provided air-to-air sensor data back to the manned fighter.
"This demonstration allows Boeing and the Navy the opportunity to analyze the data collected and decide where to make investments in future technologies," Tom Brandt, Boeing Manned-UnManned Teaming (MUMT) demonstration lead, said in a statement.
"Demonstrating the MUMT capability at FLEX19 provides a cost-effective way to identify and burn down development risk for integrating Super Hornets and Growlers together with unmanned systems," Gibson said.
He noted by participating in the FLEX exercises the Navy and Boeing are sharing the development costs and risks.
While data from the MUMT demonstrations are being analyzed, Gibson said the company is developing plans for further MUMT capability demonstrations, including interaction between F/A-18s, EA-18Gs, and Unmanned Aircraft Systems (UASs).
Brandt said this technology could help other Navy unmanned systems in development and those in the other services. The technology could allow the Navy to extend its sensors while keeping manned aircraft out of harm's way, he added.
"It's a force multiplier that enables a single aircrew to control multiple aircraft without greatly increasing workload. It has the potential to increase survivability as well as situational awareness," Brandt added.