The Pentagon's top weapons tester said the Navy fielded the latest version of the Mk 48 torpedo before it finished early testing, according to a new report.
The Director of Operational Test and Evaluation (DOT&E) published its annual report of Defense Department weapons in December and the report was publicly released on Jan. 30.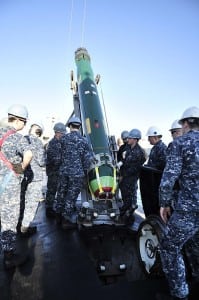 The report said that "in May 2019, the Navy fielded the Advanced Processor Build 5 (APB 5) for the MK 48 Mod 7 Common Broadband Advanced Sonar System (CBASS) torpedo prior to the completion of [initial operational test and evaluation, IOT&E]."
The Mk 48 torpedo is the only anti-submarine and anti-surface ship weapon used by U.S. submarines and is currently fielded in three variants: the Mk 48 Mod 6, Mod 6 Advanced Common Torpedo (ACOT), and Mod 7 CBASS. This report concerned APB 5 upgrades to the CBASS. The Navy is developing CBASS improvements jointly with the Royal Australian Navy.
The primary contractor is Lockheed Martin [LMT].
In August 2018, the Navy concluded the APB 5 CBASS torpedo was ready to undergo operational testing against submarines, but deferred testing against surface ships pending the completion of further developmental testing, In September 2018, the Navy started in-water operational testing of APB 5 torpedoes against submarines while continuing developmental testing against surface ships.
After several rounds of testing, the Navy fielded APB 5 torpedoes in May 2019 before completion of IOT&E. In October 2019, the Navy decided the torpedo was ready to start operational testing against surface ships.
The report noted in September 2019 DOT&E submitted a classified Early Fielding Report for the APB 5 torpedo. DOT&E said while the EFR had insufficient data to determine operational effectiveness and sustainability due to incomplete testing, the tester noted "a primary modification in APB 5 is untested."
DOT&E also said APB 5 "has no apparent degradation from the preceding variant, APB 4, in its ability to acquire and close submarines and surface ships" and APB 5 "demonstrates improvements in some tactically relevant scenarios."
The Navy intends to finish IOT&E of the APB 5 in 2020
DOT&E recommended the Navy address the three undisclosed recommendations in the classified 2019 EFR.