The Japanese government decided to completely abandon plans to deploy two Aegis Ashore sites last week after suspending the plans earlier this month.
Defense Minister Taro Kono said it is difficult to find alternative sites to the original deployment selections in Yamaguchi and Akita prefectures and the government will instead cancel the planned deployments.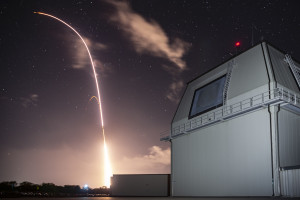 Two weeks ago, Kono announced the government was suspending deployment of the two Aegis Ashore missile defense system sites due to technical and cost concerns (Defense Daily, June 15).
At the time he argued it was difficult to ensure the systems' Standard Missile (SM)-3 Block IIA interceptors' rocket boosters would land in either the sea or a Japan self-Defense Forces training area as promised without hardware modifications. He said talks with the U.S. led the Japanese government to decide the safety of the population around the two sites could not be guaranteed with software modifications alone.
The Japanese government previously proposed basing sites in the northern prefecture of Akita and the southern prefecture of Yamaguchi, but faced opposition from both citizens and local officials. It also was forced to re-do an erroneous geographical survey for the Akita site which has been pushed back repeatedly due to the COVID-19 pandemic.
During a June 18 press conference, Prime Minister Shinzo Abe agreed that "given that the premise on which our explanations to local communities were based is now different, we must not proceed any further as proposed. That is the decision we reached."
Now Kono said the government will now have to revise its missile defense program after this cancellation. He acknowledged there are still threats from North Korea and the government will discuss other ways to protect the country, but "for the time being" the Japanese Aegis-equipped destroyers and deployed Patriot Advanced Capability (PAC)-3 system will defend the country from ballistic missiles.
During his press conference earlier this month, Abe underscored the security environment around Japan was growing more severe and over the summer the National Security Council will discuss their security strategy and decide on a new direction.
Japan's National Security Council endorsed Kono's plan to cancel Aegis Ashore on June 24 and the government now has to negotiate with the U.S. on what to do with the remaining payments and purchase contract already agreed to for the Aegis systems.
Earlier this month, Missile Defense Agency Director Vice Adm. Jon Hill said DoD was working with the Japanese government over its concerns, but sounded an optimistic tone that this was a solvable problem (Defense Daily, June 18).
"We're working very closely with them to resolve concerns and issues…we just have some work we have to do with Japan to lift the suspension so to speak," Hill said.
Hill also said there were other options in the near term for Japan's national missile defense.
After this latest decision, MDA spokesperson Deidre Forster told Defense Daily "the Missile Defense Agency will fully support the government of Japan as they determine the way ahead. Our partnership with GoJ remains an important and viable one for the missile defense of Japan and the region. We standby to assist them with evaluating alternatives."
Japan first announced plans to expand missile defenses, including deploying Aegis Ashore systems in 2017 (Defense Daily, Aug. 18, 2017).
In 2018 Japan selected Lockheed Martin's [LMT] Long Range Discrimination Radar (LRDR) for its Aegis Ashore sites over Raytheon Technologies' [RTX] SPY-6 Air and Missile Defense Radar (AMDR). The radar systems alone were expected to cost about $1.2 billion (Defense Daily, July 30, 2018).
Japan first expected the Aegis Ashore sites to be operational by 2023, but that was then delayed to at least 2025, if not later.
The State Department approved a possible $2.15 billion Foreign Military Sale to Japan to buy the two Aegis systems in early 2019 (Defense Daily, Jan. 29, 2019).
Local Kyodo News reported the Defense Ministry estimated the two systems would cost over $4 billion total, including a 30-year service life and the government has already spent $1 billion.