The head of Indo-Pacific Command (INDO-PACOM) on Tuesday said getting an Aegis Ashore missile defense system on Guam by 2026 is his number one priority to help defend against future Chinese capabilities.
"I will say that my number one priority and the most important action we can take to rapidly and fully implement the National Defense Strategy, as a first step, is a 360-degree persistent and integrated air defense capability in Guam, what I call the Homeland Defense System-Guam," Adm. Phil Davidson said during a Defense Writers Group virtual roundtable on Tuesday.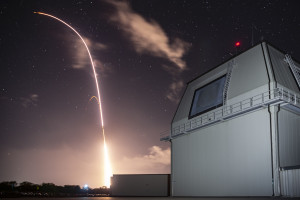 Davidson said he believes a Baseline 10 Aegis Ashore System is the best choice to help Defend Guam from advancing Chinese missile capabilities. That version uses the new Raytheon Technologies [RTX] AN/SPY-6 Air and Missile Defense Radar.
"The reason I'm a key advocate for that is first it is technology that is available to us now and could be delivered by 2026, when I believe that the threat will require us to have a much more robust capability than the combination of THAAD, which is deployed there now and an Aegis ship in response can provide," Davidson said.
He said the Terminal High Altitude Area Defense (THAAD) system plus an Aegis ship at Guam are only meant to defend against a "pretty small wedge of the clock" against a North Korean rogue missile shot.
However, when he looks at the way the Chinese military threat is advancing with ballistic or cruise missiles from air and maritime platforms, "you're going to need a complete clock, a 360-degree coverage in order to help defend Guam."
INDO-PACOM first unveiled the importance of a new Guam defense capability in a Section 1253 assessment report sent to Congress in March as required by the FY '20 defense authorization act.
The report noted the Guam defense system is Davidson's number one unfunded priority and is critical for defending the homeland.
In the report, Davidson noted the system will provide defense from the second island chain while in the future it will provide the opportunity to provide long range precision strike capability into the first island chain.
On Tuesday Davidson underscored the command, control, communications, computers, combat systems and intelligence (C5I) that comes with Aegis Ashore allows the military to add other capabilities, like the Lockheed Martin [LMT] Patriot Advanced Capability (PAC)-3 and other shorter-range defenses that interact with it.
He compared this to how the Baseline 10 Aegis, with the new AN/SPY-6 radar, "enables you to link and engage with other capability sets. That's going to be required going forward and it comes quickest. That's why homeland defense system Guam is at the top of my list."
When asked when DoD would have to break ground on a Guam Aegis Ashore site to have it ready by his 2026 goal, he said the funding has to start in fiscal year 2021, at least as part of the five-year future years defense program profile.
Separately, Davidson said from his perspective, Japan's canceling its two Aegis Ashore deployments is "just taking a step back to revisit the capability set, particularly when it comes to the sensing and when it comes to the interceptors that are associated with it to make sure that they deliver the domestic safeties that they think their population needs."
He added Japan is working with industry and the U.S on how to get the capability set they need that addresses their concerns.
"I think we'll be hearing a lot more from Japan in the weeks and months ahead," he added.
However, when asked if he thinks Japan will eventually go forward with Aegis Ashore, he said "we have to let Japan decide on where they're taking this, but we're going to certainly partner with them to help advance the ballistic missile defense relationship that the two of us have with each other."
The Japanese government first decided to suspend deployment of the two planned Aegis Ashore sites last month before two weeks later announcing it was abandoning the plans entirely because they could not easily find alternative sites (Defense Daily, June 29).
The government said it cannot ensure the Aegis Ashore Standard Missile-3 Block IIA interceptor rocket boosters would land in either the sea or a Japan Self-Defense Forces training area as promised from the two sites previously chosen. The government also faced significant local opposition at the deployment sites.