The Army's deputy chief of staff operations said Wednesday his office has reorganized its cyber, electronic warfare, network mission command and space directorates into a single organization to better manage coordination efforts for future Multi-Domain Operations. 
Lt. Gen. Charles Flynn, the Army G-3/5/7, also detailed the Army's newly tasked role leading contested logistics development under the new Joint All-Domain Operations warfighting concept being developed across the services.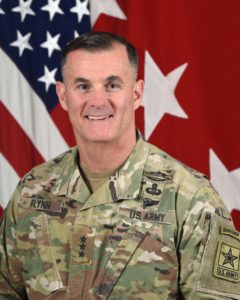 "As Multi-Domain Operations, the future operating concept, continues to evolve we recognized that actually having these disparate parts in the G-3/5/7 did not create the coordination and synchronization that we needed," Flynn said during an online AUSA discussion. "Moreover, we needed that to reach out to the Joint Staff, OSD, the major commands to conduct that kind of integrated planning and coordination."
The new Strategic Operations Directorate, led by Brig. Gen. Martin Klein, will handle operations and planning efforts from cyber and IT to information operations and enterprise networks, as well as serving a central role in leading the Army's support of the Joint All-Domain Command and Control program.
"It has turned out to be exactly what we needed to conduct that coordination holistically within that group," Flynn said.
Flynn noted the Army's work leading the contested logistics piece under the joint services' new warfighting concept is one four "functional concepts" being developed, along with command and control, fires and information advantage.
The work on "joint logistics under fire" is being led by the Army G-4 with support from Futures Command and Materiel Command, according to Flynn.