The State Department recently approved a potential $3.29 billion Foreign Military Sale (FMS) to Japan for up to 73 Standard Missile -3 (SM-3) Block IIA missiles.
The Defense Security Cooperation Agency (DSCA) notified Congress of the sale on Tuesday.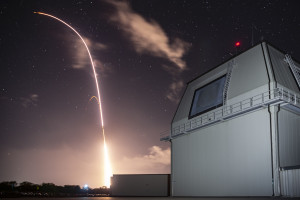 The sale also covers MK 29 cannisters with packing, handling, storage and transportation (PHS&T) kits; up to 10 Special Assignment Airlift Missions; technical assistance; and other logistics and program support.
The prime contractor for the SM-3 IIA All Up Rounds is Raytheon [RTN] while the contractor for the MK 29 cannisters and PHS&T kids is BAE Systems.
DSCA said Japan would use the missiles to increase its ballistic missile defense capability to defend the Japanese homeland and U.S. personnel stationed there.
Implementing the sale will require five years of annual trips to Japan by U.S. government and contractor representatives for technical reviews, support, and oversight.
The SM-3 IIA is a cooperative development program between the U.S. and Japan to have the interceptor travel farther and intercept targets traveling at higher speeds. The Missile Defense Agency plans to field this missile on Aegis Ashore sites and U.S. Aegis Navy ships.
In January, the State Department approved a $1.15 billion FMS sale to Japan for two Aegis Weapon Systems for the country's upcoming two Aegis Ashore sites (Defense Daily, Jan. 29).