The State Department has approved nearly $1 billion in arms sales with Hungary, Denmark, Lithuania and South Korea, ranging from missiles to Joint Light Tactical Vehicles.
The Defense Security Cooperation Agency notified Congress on Tuesday of the four separate deals totaling $943 million.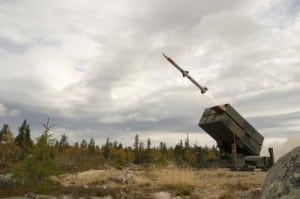 Hungary is set to receive 180 of Raytheon's [RTN] AIM-120C-7 Advanced Medium Range Air-to-Air Missiles (AMRAAM) for $500 million.
The deal also includes four spare control sections, six training missiles, missile containers and classified software for the AN/MPQ-64F1 Sentinel Radar.
Officials have also approved a $170.8 million deal with Lithuania for 500 JLTVs, specifically the Heavy Guns Carrier version of the new Oshkosh [OSK]-built Light Tactical Vehicle.
"The proposed sale of the Joint Light Tactical Vehicle will help improve Lithuania's light tactical vehicle fleet and enhance the capabilities to meet current and future enemy threats," the DSCA wrote.
Lithuania has also requested M153 Common Remote Weapon Stations, MK-93 weapons mounts, M2 QCB .50 CAL Machine Guns and M230 TAC-FLIR Systems.
The State Department also announced a $72 million deal with South Korea for 31 of Raytheon's MK-54 lightweight torpedoes.
The deal also includes torpedo containers, Recoverable Exercise Torpedoes with containers, Fleet Exercise Section (FES) and fuel tanks.
The administration has also approved a $200 million deal with Denmark for nine AN/AQS-22 Airborne Low Frequency Sonar (ALFS) systems and 600 AN/SSQ-36/53/62 Sonobuoys.
"The proposed sale will improve Denmark's capability to meet current and future threats from enemy weapon systems. The ALFS and Sonobuoys will provide the capability to perform anti-submarine warfare missions," DSCA officials wrote in a statement.
Lockheed Martin [LMT] is the prime contractor for the deal with Denmark.