The Secretary of the Navy has directed plans to prepare for a potential one-year continuing resolution (CR), should delayed defense appropriations not get resolved by the end of the year.
"We have done planning for a short – the stated CR – and then I have made sure that we are now looking at a one-year CR, it looks like," Secretary Richard Spencer told reporters today at a Heritage Foundation press roundtable.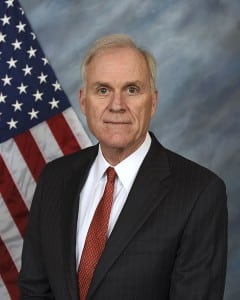 Last month, Congress passed a CR to fund the government at fiscal year 2019 levels through Nov. 21. Sen. Richard Shelby (R-Ala.), chairman of the Senate Appropriations Committee, warned at the time that if an agreement between the White House and Democrats on border wall funding levels could not be reached, Congress runs the risk of passing a yearlong continuing resolution (Defense Daily, Sept. 26).
Spencer said all of the Navy's plans are "dismal, it comes to prioritization…we have the tools of anomalies, but anomalies will probably be difficult also."
Spencer noted more generally that if the Budget Control Act and sequestration were intended to control spending "I don't know if they were actually considering what it did to readiness."
He said the Pentagon is "pretty good at being MacGuyvers and figuring out how to deal with the situation." Ten CRs later the military still operates its missions, "albeit in various different stages of readiness but we get out the door."
"So in some cases we're our own worst enemy because Congress turns around and goes fine, you know what, one year, they'll get through it, they'll figure it out. Yeah we will, but what will we look like on the other side?"
Spencer said one of his biggest concerns with CRs and budget issues is how it affects the industrial supply chain.
"Look what happened at some of these CRs early on. You had people leaving the shipbuilding industry and going into some other form of construction and/or manufacturing because they said 'Look the auto industry is at least saying I'll be building cars for the next 5 years. The Navy keeps saying oop, on off on off, I can't live through his uncertainty,' so you lost talent and you lose your supply chain strength."
"That's the biggest concern, is the secondary and tertiary effects that happen from this," Spencer added.