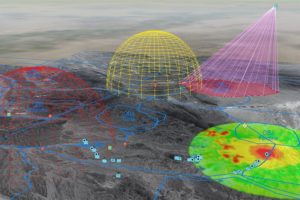 The U.S. Army is in the final stages of developing a software tool, the Raytheon [RTN] Electronic Warfare Planning and Management Tool (EWPMT), to give the operators of military hardware, including aircraft, situational awareness of the electromagnetic spectrum (EMS), according to a discussion of Electromagnetic Battle Management (EMBM) at the Association of Old Crows annual symposium in Washington, D.C. this week.
Begun by the Army in 2014, EWPMT is to plan, manage and control sensors and other systems in the electromagnetic spectrum (EMS) to provide fighting forces with critical information on the crowded signal environment of a modern battlefield. Under EWPMT, electronic warfare officers will be able to analyze possible courses of action and to provide situational awareness for Army brigade combat team commanders. EWPMT's "collaboration and sharing capability brings electronic warfare officers, electromagnetic spectrum managers and cyber planners into the virtual command post computing environment to deconflict and manage the very congested spectrum," Raytheon said.
Over the next two years under a multi-million dollar contract with the Army, Raytheon is developing EWPMT Capability Drop 4 (CD4)–the last stage before the scheduled full operational capability, Increment 1–in 2021.
Niraj Srivastava, product line manager for Raytheon Electronic Warfare Systems, said that EWPMT "gives the Army the freedom to add new capabilities and algorithms so they can manage an increasingly complex electromagnetic spectrum."
"And because it uses open architecture, the tool can be shared with other military services," Srivastava said.
Raytheon has delivered CD1 and CD2, and is working on CD3, targeted toward employment in a tactical environment against threats. CD3 includes the functionality of Raytheon's Raven Claw, a mobile version of EWPMT that helps operators control signals in the field, "even without a host server or reliable connection to external data," according to Raytheon. "Under the CD4 contract, Raytheon will continue to develop software and the user interface for a more connected, mobile system."
At the Association of Old Crows conference this week, Jose Perez, a retired U.S. Marine Corps major and Torch Technologies' senior technical manager for EW/Aviation Systems,  said that a joint, multi-national EMBM architecture would help prevent "frequency fratricide."
Such an EMBM architecture could give insights on how many unmanned aerial systems allied forces could employ in a given environment and how best to use their EMS capabilities. Artificial intelligence will likely aid the development of an EMBM architecture that can understand battlefield EMS data, according to one official's address this week at the Association of Old Crows conference.
"EMBM is data-hungry," said John Stine, MITRE's head of operations research. "AI is likely to play a very key role in that."
EMBM is to provide an EMS situational awareness tool, not only for joint electromagnetic spectrum operations centers (JEMSOCs), but across the various echelons of military command.
Stine said that the Pentagon's broad vision for EMBM includes "forward looking situational awareness," ubiquity across military echelons, the enabling of maneuver to deny an adversary's use of the EMS, and rapid decision making.
Alan Rosner, an official with the Defense Information System Agency/Defense Spectrum Organization (DISA/DSO), said that DoD is poised to get a material solution for EMBM and that he is "very hopeful resources will be put to where gaps have been identified."