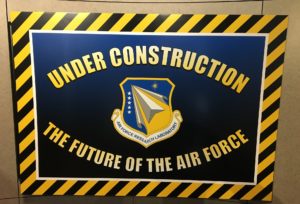 DAYTON, Ohio — At the Air Force Research Lab on Wright-Patterson AFB here the service has begun preliminary research into how it can harness commercial efforts on futuristic urban air taxis to increase capability and lower costs.
More than a billion dollars have been invested by companies like Boeing [BA], Airbus and Bell Flight [TXT] — as well as smaller startups like Joby Aviation, ElRoy Air and Volocopter — into developing a new category of electric and hybrid aircraft that combine the best attributes of airplanes and helicopters. Commonly referred to as 'eVTOLs,' or electric vertical takeoff and landing aircraft, companies like Uber [UBER] hope they will eventually play the role of cheaper, safer and autonomous helicopters that can shuttle people and cargo around at substantially lower costs than current solutions.
Though many of the eVTOLs under development are fully electric, the Air Force is primarily interested in hybrid systems, Daniel Goddard, acting deputy director of the Aerospace Systems Directorate at AFRL, told Defense Daily during a visit to AFR here.
Mission applications might include moving cargo relatively short distances, transporting small numbers of people or combat search and rescue — often instances where traditional helicopters or V-22 Ospreys, which have high sustainment costs, are used.
"[Air Forces Special Operations Command] does a lot of these real short-range missions," Goddard said. "They have a number of fixed-wing aircraft that they use, of course helicopters are used quite a bit for that right now … and the V-22."
The 33,000-pound Bell-Boeing V-22 costs the Air Force more than $9,000 per flight hour, sometimes for carrying out small cargo missions that could be offloaded to a much cheaper — and potentially unmanned — hybrid VTOL aircraft.
"Some of these missions that we fly, especially just resupplying a small team — you know, they may only be delivering 100 pounds of ammunition and water, and they may only go 50 nautical miles to do that," Goddard said. "That's a perfect application for a VTOL aircraft."
And that's what prompted the Air Force to launch Agility Prime, its exploration into military applications for "self-flying cars." Last month, acquisition chief Will Roper said it was a "low-hanging opportunity" to "look into where commercial innovation is going in flying cars." Following a capability briefing by an unnamed vendor, Roper called AFRL and asked a team to pursue an acquisition strategy that would result in mature designs with low complexity and low sustainment costs.
As early as next fall, the Air Force plans to run a series of challenges that more or less match the missions described above, relying on direct demonstration to find appropriate vehicles rather than strict sets of requirements. A handful of vehicles will likely be ready to fly by then, Goddard said. He thinks that list will include Joby Aviation's secretive eVTOL project and ElRoy Air's autonomous, cargo-oriented 'Chaparral,' which first flew in August.
"Maybe a year after that we'll have a second event and then the next tranche of companies will be able to come to that," Goddard said.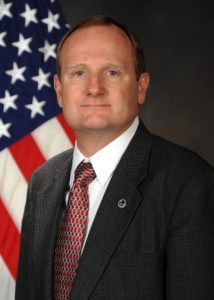 It's a similar program to NASA's Urban Air Mobility Grand Challenge, which kicked off this past summer and plans to evaluate the requirements for a mature UAM ecosystem, including airspace management and infrastructure as well as aircraft performance.
Companies likely won't be compensated for participation in the Air Force challenge program, Goddard said, and it won't be directly linked to a procurement process — though that is likely to follow if and when the Air Force believes effective solutions are ready for purchase. But unclassified data from these flights will be shared back to participating companies, and the opportunity to glean that flight data may entice companies to participate; testing aircraft in military airspace could be much easier than obtaining waivers from the FAA.
One issue: many of the VTOL designs currently under development for UAM look plenty capable for perfect weather conditions but far from the all-terrain ruggedness the military demands.
"It's not always sunny California where the Air Force has to operate … the little rotor blades can't ice up, you know, it's got to be able to operate in all weather," Goddard said.
Low-value, low-risk cargo missions are likely to be achievable by eVTOLs first, with higher-value cargo missions and eventually passenger-carrying missions to follow. AFRL is mostly looking at unmanned aircraft for Agility Prime but is open to the idea of optionally-manned vehicles as well, Goddard said.
It's also possible that hybrid VTOL aircraft, offering much lower acoustic signatures than traditional helicopters, could be used for less-detectable surveillance or distributed insertion of special operations units behind enemy lines, ideas discussed by Uber's chief aviation engineer, Mark Moore, a former NASA employee. But that is likely much further down the road.
"In some ways, this is almost mimicking what happened in the electronics industry," Goddard said. "The government used to push the research in electronics. Well, that's been taken over and surpassed by industry … the same thing is happening in this market."
"We're not going to levy any particular requirements yet. We just want to run these series of challenge projects to see what the capabilities are right now."