The Senate overwhelmingly passed a continuing resolution to fund the government at fiscal year 2019 levels until Thanksgiving on Sept. 26, with President Trump expected to sign it before the end of the fiscal year arrives next Monday.
The CR – which extends government funding to Nov. 21 – passed the Senate by a bipartisan 82-15 vote, with all the opposition coming from Republican lawmakers. Three Democratic presidential candidates — Sens. Cory Booker (D-N.J.), Elizabeth Warren (D-Mass.) and Bernie Sanders (I-Vt.) — did not vote. The House passed the bill Sept. 19 by a vote of 301-123.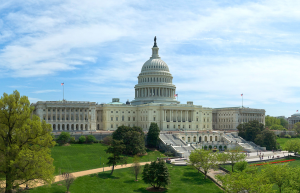 Opponents including fiscal hawks such as Senate Armed Services Committee member Sen. Joni Ernst (R-Iowa), who told reporters Thursday that she typically opposes CRs for the fiscal instability they present.
"We shouldn't be doing business like this," she said.
Sen. Richard Shelby (R-Ala.), the chairman of the Senate Appropriations Committee who voted in support of the CR, warned his fellow lawmakers earlier on Thursday that should an agreement not be reached between the White House and Democrats on border wall funding levels, they run the risk of a yearlong continuing resolution.
Shelby told reporters Wednesday that he was hoping to meet with Trump on Thursday to find a path to negotiating the outstanding fiscal year 2020 appropriations bills. On Thursday, he said the meeting had been pushed to Friday.
SASC Chairman Jim Inhofe (R-Okla.), who voted against the CR, decried that new possibility in a statement Thursday, and noted the effect such a long CR would have on the Defense Department. The legislation includes a hold on new-start programs and multi-year activities, with some exceptions.
"The Pentagon started the fiscal year under at least a three-month CR nine of the last 10 years," Inhofe said. "However, it has never operated under a CR for a full year. When Congress continues to choose putting a band aid on the situation rather than finding a long-term solution, it is our troops who suffer.
"Although I am glad we have avoided a shutdown, this temporary fix was completely avoidable," Inhofe continued. "We need legislation that provides certainty and long-term funding for our military, and we need to make that a reality in the coming weeks."
The continuing resolution legislation also extends $250 million in Ukraine Security Assistance Initiative funds that were due to expire on Monday for an extra year. The White House had put a hold on the funds for several months, then released the aid earlier this month following pressure from lawmakers.