Members of the House Armed Services Readiness subcommittee pushed Navy officials last week for a more detailed five-year plan for shipyard improvement ahead of the overall 20-year Shipyard Infrastructure Optimization Plan (SIOP).
The Navy's SIOP plan is a 20-year effort costing upwards of $21 billion to improve the infrastructure of the nation's four public shipyards that conduct maintenance work on nuclear-powered vessels. This covers work like improving dry docks, production pieces, capital improvements, and workflow improvements.
The four public shipyards are the Norfolk Naval Shipyard in Portsmouth, Va.; Portsmouth Naval Shipyard in Kittery, Me.; Puget Sound Naval Shipyard and Intermediate Maintenance Facility in Bremerton, Wash.; and Pearl Harbor Naval Shipyard and Intermediate Maintenance Facility in Hawaii.
Subcommittee Chairman Rep. John Garamendi (D-Calif.) argued that while he approves of the SIOP, "however I want to see the details of the plan. I want to know what's going to be done in the next five years and in the 10 years and if it goes to 20 years, years 10 to 20. Now, Congress directed the development of this plan and I worry without our continuing prodding that it will fail to come to fruition."
Garamendi said the Navy has a habit of prioritizing resources for new platforms over "the essential but perhaps less glamorous investment" in facilities to sustain current platforms and military construction needed to maintain shipyards.
"I also worry that the projected 20 years is far too long to modernize this critical infrastructure and that the current plan leaves no margin for flexibility to accommodate a larger and reconfigured nuclear fleet. Upgrading our shipyards is one of the prerequisites for meeting the needs of tomorrow's Navy, overhauling the way the Navy performs maintenance is another," he added.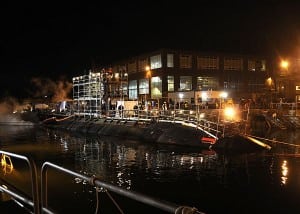 Garamendi said he wants a specific plan covering the next five years of work needed under the SIOP for the public shipyards and would call back several officials for an update within six months,
Vice Adm. William Galinis, commander of Naval Sea Systems Command (NAVSEA), responded "absolutely, yes sir. We're ready to provide that, we can have that for you, yes sir."
Rep. Joe Wilson (R-S.C.), sitting in for the subcommittee ranking member, said the four public shipyards have too few functional dry docks and capital equipment beyond its service life and originally built by companies that no longer exist.
"All of this contributed to an aircraft carrier average overage of 113 days and overdue submarine availabilities an average of 225 days. That also means 75 percent of maintenance periods for aircraft carriers and submarines were completed late between FY 2015 and FY 2019," Wilson said.
Wilson also said he is concerned the SIOP only accounts of 67 of 68 anticipated maintenance availabilities of the current fleet and it "does not account for any reconfiguration of the current fleet that may occur or even any unscheduled work…we must see real investments in these yards in this year's budget."
Garamendi reiterated that "one of the reasons that I'm driving so hard for the five-year – what are we going to do next year and the year after that and the next three years beyond – is, I'll give you an example: last week, several billion dollars was returned to the Department of Defense for military construction programs." This references funds previously diverted by the Trump administration for border security work.
"To my knowledge, none of that will be available for this particular purpose because none of the programs we've been talking about, none of the activities we've been talking about here, are yet in the military construction, MILCON, program. They're not programmed. So I'm going to drive very hard through Adm. Galinis for detail for the next five years so that we can, every year, know what you need."
Garamendi said this aims to help Congress act more quickly if there is a chance to secure more funding for SIOP shipyard work outside the normal annual defense budgeting process.
Rep. Elaine Luria (D-Va.), vice chair of the full committee, highlighted criticism of Navy planning in Congressional Budget Office reports on ship maintenance directing more investments sooner.
"What I see in this data is that maintenance delays are significantly impacting the operational availability of our ships and submarines and like many have said today, the investments in the public and private shipyards and in that workforce actually increase the effective size of the fleet, so investment in this infrastructure is needed today and not 20 years from now."
Galinis said there probably is some ability to accelerate planning in the SIOP if Congress made the funding available. He noted by the end of this year digital twin models of each of the public shipyards will be complete. This will create a computer model of the ideal layout of each yard to help make the most efficient flow of material and people for repair work.
After the digital twin, "our ability to get the planning done upfront, which includes the area development plans and talk about the infrastructure, the foundational environments that we want to build these new buildings in, that's probably a key part" that could be accelerated," he said.
Also speaking at the hearing, Rear Adm. Howard Markle, deputy commander of NAVSEA for Logistics, Maintenance and Industrial operations (SEA 04), said there may be some opportunity to speed up the process of overhauling shops and buildings at the yards.
However, Markle warned the Navy had to be careful not to accelerate SIOP efforts at the risk of conducting ship repair work on schedule.
"As you look for the potential for acceleration, there's obviously two very large constraints that would constrict that. Those are funding, and those are the ability to accelerate those and integrate them with the ongoing maintenance, ensuring that we can meet our mission."
Last month, acting Secretary of the Navy Thomas Harker told the House Appropriations Committee's Defense subcommittee that the SIOP could be accelerated if additional funds were provided (Defense Daily, April 30).
In April, a bipartisan group in Congress introduced a bill to provide $25 billion to help fund public and private shipyard recapitalization efforts, including providing the SIOP funding upfront (Defense Daily, April 28).
Previously, in March Galinis told this same subcommittee he was asking his team to look at what it would take to accelerate the pace of SIOP work to 10 or 15 years instead of 20 (Defense Daily, March 25).