Bell [TXT] has revealed the design its offering for the Army's Future Attack Reconnaissance Aircraft (FARA) program, pitching the Bell 360 Invictus aircraft as the "most affordable, most sustainable and lowest risk" solution outfitted with next-generation helicopter capabilities. 
At a recent briefing with reporters, Bell officials said Invictus is headed toward an air vehicle critical design review in 2020 with plans for a first flight test in late 2022, as the company moves ahead as one of five competitors working to design FARA prototypes.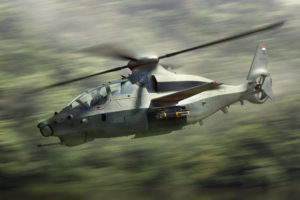 Keith Flail, Bell's vice president of advanced vertical lift systems, said the platform builds off the experience developing the new 525 commercial helicopter, and works under a similarly compressed timeline on the V-280 Valor tiltrotor aircraft for the Army's Joint Multi-Role-Technology Demonstrator (JMR-TD) program, which is informing Future Long Range Assault Aircraft requirements. 
"You look at what we just accomplished with the JMR-TD program. Take at least a year off that and cut it off the schedule in terms of what we're trying to do here with FARA, I think we're very well positioned as a company to be able to execute that because of our cycle of learning with JMR. But this is extremely fast-paced, focused on the simplicity and keeping the complexity and the risk out of it as much as possible," Flail said. "The reason I know we can do this is because we just did it with the V-280."
FARA is the Army's Future Vertical Lift program to find a platform to replace its OH-58D Kiowas and a portion of its AH-64E Apache fleet, as the service looks for a future scout attack helicopter geared toward a potential future fight in areas such as urban environments. 
In April, the Army awarded Other Transaction Authority deals for the FARA-Competitive Prototype (FARA-CP) phase to Bell, a team of AVX [AVX] and L3Harris [LHX], Boeing [BA], Sikorsky [LMT] and a team of Karem Aircraft, Northrop Grumman [NOC] and Raytheon [RTN]. 
"Where are the long poles in any program where you're operating in a compressed timeline like this? It's rotors, gear boxes and it's flight controls. The simpler we can make all of those, it's going to pay off in terms of having the aircraft on the ramp when it needs to be," Flail said. 
Invictus is a single main-rotor helicopter with a low-drag tandem cockpit fuselage and fly-by-wire technology designed to meet the Army's speed requirement of exceeding 180 knots.
The aircraft also includes a supplemental power unit to provide additional horsepower, which Flail said is currently working through the patent process, as well as a 20mm gun and an integrated munitions launcher for Hellfire missiles and rockets.
"Everything we have done has been focused on how do you keep the lowest drag possible on the aircraft so we don't have to add exotic solutions to the aircraft to meet the requirements and get to the speeds that you need to for the FARA program," Flail said. "The harmonization of all these features within a fly-by-wire flight control system is what gets us there."
Bell has also teamed up with Collins Aerospace [UTX] to integrate its modular open systems architecture (MOSA) on Invictus to advance the fly-by-wire capabilities and work toward the Army's requirement of having an optionally-manned aircraft.
"That's the beauty of their MOSA solution is we can show that we can address obsolescence and take something off the aircraft and put something else on or the Army decides they have new capability they want to integrate onto the platform," Flail said. "Having the fly-by-wire flight control system, taking that to the next level for autonomy, is something that we know how to do. For this FARA-CP aircraft, the first one, won't have the provision for that but the optionally-piloted piece will be an incremental task for the following aircraft."
The company has already started wind-tunnel testing with a 17 percent scaled version of the aircraft, and will bring a full-scale mock-up of Invictus to the upcoming AUSA conference in Washington, D.C.