The Navy said Tuesday it started Phase II of the Ghost Fleet Overlord Unmanned Surface Vehicles (USV) programs, awarding contract modifications to two industry teams.
The Office of the Secretary of Defense Strategic Capabilities Office (OSD SCO) developed the experimental Overlord program with the Navy's Program Executive Office Unmanned and Small Combatants (PEO USC), starting in 2018.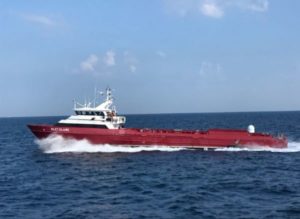 Then in March, the Navy issued a request for information notice to find sources capable of satisfying the Navy's new Large Unmanned Surface Vehicle (LUSV) program requirements. The Navy's FY 2020 budget request revealed plans to spend up to $2.7 billion on 10 LUSVs (Defense Daily, March 13).
That same month, Defense Daily learned while the LUSV is a new program, Ghost Fleet Overlord will serve as a demonstration, experimentation and risk reduction effort for the new vessels (Defense Daily, March 14).
The two Overlord teams are led by Gibbs & Cox and L3 ASV Global [LHX].
The Overlord program is divided into two phases. Phase I, which ended in September, had the teams convert existing commercial fast supply vessels into USVs; focus on autonomy system integration; demonstrate navigational autonomy; and perform hull, mechanical and electrical system reliability upgrades.
Phase I also included reliability of systems tests, over 600 hours of autonomy testing, and several long-range autonomous transits in a complex navigational environment.
The Navy said Phase I concluded with "successful capstone demonstration of both Overlord vessels executing interactions compliant with the Convention on the International Regulations for Preventing Collisions at Sea (COLREGS)."
The Navy explained Phase II will now use the same ships from Phase I but focus on integrating government-furnished command and control systems and payloads while including more complex and challenging experimentation.
"Phase II will complete in Fiscal Year 2021 at which point the Overlord vessels will transition to the Navy for further experimentation," the Navy said in a statement.
"The experiences gleaned from both Phase I and II of Overlord are designed to inform and accelerate the Navy's Large and Medium USV programs, which are managed by the same team in PEO USC," it added.
The Navy plans to procure two Overlord-configuration experimentation LUSVs in FY 2020 using the existing OSD SCO Overlord contracts. Thereafter, two LUSVs will be procured annually from FY '21 through FY '24, according to Navy budget documents.
In May, the Navy established a new surface squadron focusing on experimentation with new surface warfare capabilities, covering Zumwalt-class destroyers and eventually integrating medium and large unmanned surface vessels (Defense Daily, May 24).
The Navy said "the experiences gleaned from both Phase I and II of Overlord are designed to inform and accelerate the Navy's Large and Medium USV programs."