The U.K. has awarded BAE Systems a new 15-year, $3.2 billion deal to continue supplying munitions for the British military, the company said Monday.
BAE Systems said the deal will allow for a $93.3 million investment toward upgrading manufacturing lines, with plans to also spend $466.3 million on purchasing raw materials and machine components from British companies.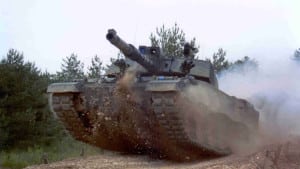 "This contract secures the future of a highly technical and critical industry which supports thousands of manufacturing jobs in several areas throughout the U.K. By investing in new technology and skills to further develop our expertise, we can continue to deliver essential sovereign capability to the Armed Forces at competitive prices," Charles Woodburn, the company's chief executive, said in a statement.
The award for the Next Generation Munitions Solution program will begin in 2023, and follows BAE Systems previous munitions contract with the British military awarded in 2008.
"This vital multi-billion pound contract will provide our service men and women with fire power on the front line for years to come whilst investing in British industry, British jobs and British infrastructure," Jeremy Quin, the U.K. Ministry of Defense's top acquisition official, said in a statement.
The U.K. recently announced plans to boost defense spending by $32 billion over the next four years, an increase of $21.9 billion more than the British government had previously pledged to invest in its military (Defense Daily, Nov. 19).