The Navy said Monday it will scrap the USS Bonhomme Richard (LHD-6) after a fire heavily damaged it earlier this year, concluding the cost to fix or convert it is not worth it.
A fire raged on the Wasp-class amphibious assault ship for four days in July while in port in San Diego undergoing a standard maintenance availability (Defense Daily, July 17).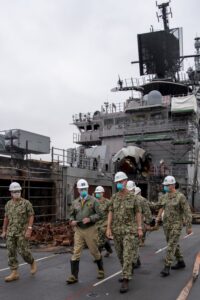 "We did not come to this decision lightly. Following an extensive material assessment in which various courses of action were considered and evaluated, we came to the conclusion that it is not fiscally responsible to restore her," Secretary of the Navy Kenneth Braithwaite said in a statement on Nov. 30.
The Navy conducted several investigations and a "comprehensive" material assessment to determine the best way forward.
The service considered three options: rebuild and restore the Bonhomme Richard; rebuild it into another purpose like a hospital ship, submarine tender, or surface ship tender; or dismantle and scrap it.
That assessment concluded the cost to completely restore the ship might cost over $3 billion and take five to seven years.
According to the Navy's fiscal year 2021 budget request documents, it plans to procure the new America-class LHA-9 amphibious assault ship in fiscal year 2023 at a cost of $3.9 billion, not including advance procurement funds that push it over $4 billion.
The Navy also concluded converting the vessel into one of the alternative purposes also might cost more than $1 billion, more than the cost of a new construction hospital ship, submarine tender, or command and control ship.
The Navy previously spent about $250 million on the 18-month availability to upgrade LHD-6, including making it able to support F-35B Joint Strike Fighters.
While the timeline to tow the ship away from the pier in San Diego and dismantle it is still being finalized, "the Navy will execute an inactivation availability that will remove systems and components for use in other ships," the service said.
"Although it saddens me that it is not cost effective to bring her back, I know this ship's legacy will continue to live on through the brave men and women who fought so hard to save her, as well as the Sailors and Marines who served aboard her during her 22-year history," Braithwaite added.
The Navy underscored since the July fire it has taken various actions to provide immediate fire safety and prevention improvements across both the fleet and shore installations to reduce the chance of this kind of event repeating.
Fleet commanders established a fire safety assessment program to conduct random assessments of a ship's compliance with service fire safety regulations, prioritizing ships undergoing maintenance availabilities.
Naval Sea Systems Command also issued an advisory to supervising authority on fire prevention requirements and also outlined actions to improve fire protection, damage control, and firefighting doctrine.
The service added all of the LHD-6 fire investigations remain ongoing.
LHD-6 was the flagship of Expeditionary Strike Group Three and was built by Huntington Ingalls Industries' [HII] Ingalls Shipbuilding in Pascagoula, Miss., where it would have been repaired as well. HII also builds the new America-class LHAs.