The State Department has approved a potential $239.4 million deal with Morocco for 25 of BAE Systems' M88 recovery vehicles.
The Defense Security Cooperation Agency notified Congress on Tuesday of the foreign military sale.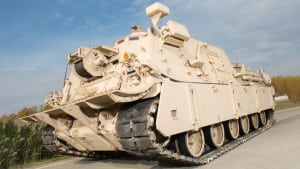 The deal may include both M88A2 Heavy Equipment Recovery Combat Utility Lift and Evacuation System (HERCULES) vehicles and refurbished M88A1 long supply HERCULES vehicles.
"The proposed sale will improve Morocco's capability to meet current and future combat vehicle recovery requirements.  Morocco will use the enhanced capability to enable armored forces training to strengthen its homeland defense and deter regional threats," DSCA officials wrote in a statement. "Morocco intends to use these defense articles and services to modernize its armed forces by updating their combat vehicle recovery capability in pace with their armored unit upgrades."
Morocco has also requested to buy 25 M2 .50 caliber machine guns, SINCGARS radios, AN/PSN-13A GPS systems, smoke grenade launchers and 1,800 rounds of smoke grenades.