A House panel on Tuesday pressed Army senior leadership on potential schedule delays and cost adjustments after restarting its Optionally Manned Fighting Vehicle (OMFV) competition and the long-term acquisition strategy for the Indirect Fire Protection Capability (IFPC) program following procurement of initial Iron Dome systems.
Army Secretary Ryan McCarthy and Gen. James McConville, the service chief, also reiterated to lawmakers on the House Armed Services Committee their view that three to five percent topline budget growth will be required to meet the service's continued modernization push.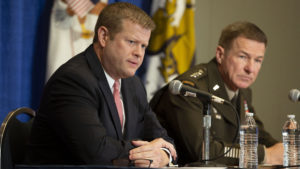 "Demand [for Army forces] paired with the need to bring new systems online, will require us to grow the budget three to five percent real growth in the out years," McCarthy said during his opening remarks. "In-depth program reviews will continue in FY '21, with the total target of an additional $9.1 billion in programs that will be delayed, reduced, or eliminated. The Army will continue to show fiscal responsibility with taxpayer dollars. We view every dollar as we do with ammunition; each bullet matters and is aimed at a target."
Rep. Paul Mitchell (R-Mich.) specifically sought an update from the Army senior leaders on the impact caused by canceling the solicitation effort for Bradley-replacing OMFV program in January and industry's reaction to the new acquisition strategy. 
"If we're going to get private sector money involved, and we're going to innovation from venture capital, we need to focus more on laying out the problem and then letting them come up with ideas. Rather than having them focus significant funds of money on a prototype only to be told 'we changed our mind.' That certainly does not help with getting people to invest," Mitchell said.
The Army leaders didn't offer specifics on delays to the 2026 targeted fielding date or potential cost overruns, while McConville noted the program will now be structured around "OMFV characteristics" rather than prescriptive requirements to allow for greater innovation.
"We took a step back from our approach on the Optionally Manned Fighting Vehicle. I would like to say we learned early before we invested a lot of money in the system, which was not the way we did things in the past. We learned that we were going down the road with requirements that industry could not meet," McConville said. "The schedule is set up to bring industry partners along, those that are going to design the vehicle but also those that are going to bring technology into this system that may be non-traditional partners."
Rep. Doug Lamborn (R-Colo.) sought from the Army leaders to clarify the service's long-term approach for IFPC after acquiring two Iron Dome systems as an interim capability, with a recent defense authorization calling for a total procurement of four systems. 
"So it seems while the Army continues to evaluate this enduring Indirect Fire Protection Capability, the Iron Dome capability appears to be a battle-proven system and a known quantity as something we have on hand," Lamborn said. 
McConville said the Iron Dome is filling a near-term need with the goal of having the Israeli system compete along with U.S.-manufactured capabilities designed to take down UAS and cruise missile threats.
"We went ahead and purchased two Iron Dome batteries. They are stand-alone, static batteries to provide a certain capability. They are combat-proven. But where the Army's going to is a layered defense for air and missile defense. We see that in the future as something we're very concerned about. We want to be able to tie every sensor to shooter," McConville said.
McCarthy added that the most recent budget request includes flexibility to explore IFPC options, while remaining on track to field the Iron Dome batteries this year.
"We are pursuing the Iron Dome system. We have left our options open on the outyears with IFPC because we need to get more data from the manufacturer so we can see if adjustments have to be made to that system in order to meet a cruise missile threat," McCarthy said.