The Army on Wednesday released its new digital transformation strategy that establishes a series of information technology initiatives and calls on the service to "prioritize resources for digital modernization over current year operational readiness" as it looks to overhaul its technology capability and services by 2028.
The new strategy, led by Army Chief Information Officer Raj Iyer, also establishes a new Digital Oversight Council and IT Oversight Council to ensure new modernization initiatives maximize capability to support future Multi-Domain Operations (MDO) and the new Joint All-Domain Command and Control (JADC2) initiative.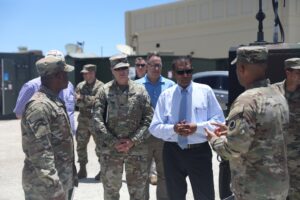 "Between 2021 and 2028, the goal is to converge current digital initiatives that support readiness and modernization into a single integrated plan, enable these initiatives at the enterprise-level so they are available to the total Army from the tactical edge to the enterprise, and establish standardized service delivery processes, methods and tools, all fully leveraging cloud as an enabler," the Army writes in its strategy.
The strategy acknowledges the Army will have to undergo this IT transformation facing a "fiscally constrained future," while adding the larger goal is to "prioritize resources for digital modernization over current year operational readiness."
Reform efforts under the strategy, to be led by the new councils, include continually assessing the Army's digital portfolio, divesting of legacy systems, updating business processes, adopting more automation, and finding further savings through consolidation.
"The cost avoidance harvested from such reform efforts can be re-allocated to modernize enduring legacy systems, data, and networks to achieve even greater cost savings in the future," the Army writes.
The new strategy details a slew of modernization initiatives that aims to move toward a more enterprise approach to IT services, with the Army noting that current digital initiatives are siloed across mission areas, inhibiting the interoperability needed to support MDO and JADC2."
For cloud computing, the document calls for synchronizing the Army's enterprise and tactical cloud efforts and establishing a new "cArmy hybrid global cloud that is resilient, secure, and able to share computing and storage resources seamlessly for enterprise and tactical applications."
The Army is also prioritizing the use of data as a strategic asset, to include bringing in artificial intelligence, machine learning and robotic process automation to upgrade data management capabilities on an enterprise level.
In the area of cyber security, the strategy calls for establishing zero trust (ZT) principles for both information and operational technologies, or IT and OT, to better detect anomalous activity and improve automated cyber security monitoring.
"As adversaries continue to achieve greater sophistication in their offensive cyber capabilities, the Army must be able to protect its ever-increasing attack surface area of both traditional IT and non-traditional OT assets connected to the DoD Information Networks while still adopting commercial technologies. To achieve this, the Army will implement Zero Trust principles for IT and OT assets by completing a current state assessment of ZT capabilities for all of its systems, rapidly addressing gaps in capabilities, implementing policies to integrate ZT into all aspects of Army processes including supply chains, and continually evaluating and maturing ZT across the Army," the Army writes.
The strategy also builds on the recently released Unified Network plan that aims to synchronize tactical and enterprise networking modernization efforts to transform the network from a "perceived invisible asset to a weapons system" by 2028 (Defense Daily, Oct. 8).
"Today the Army's IT infrastructure and networks are not interoperable, not fully utilized, and require investments for tech refresh," the Army writes. "The Army will converge its 42 separate organization networks, rationalize and consolidate the network management tools supporting these networks, consolidate them into a single Active Directory, and optimize the unified network for MDO."