The Army has awarded prototype deals to Oshkosh [OSK] Defense and SAIC [SAIC] for the Infantry Squad Vehicle program to find a new lightweight air-droppable platform, with the service expected to make a production decision in spring 2020.
Each vendor is tasked with delivering two test vehicles, as the Army plans to eventually purchase over 650 vehicles between 2020 and 2024.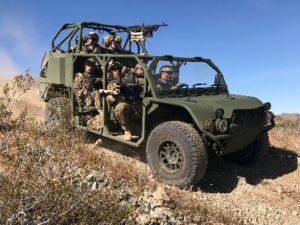 Oshkosh, who is partnered with Flyer Defense on the program, announced their selection for the prototype phase on Friday.
"The ISV program is critical in providing infantry troops with an agile means to get to and through the battlefield as quickly and capably as possible," George Mansfield, Oshkosh's vice president and general manager of joint programs, said in a statement. "The ISV platform will also significantly lighten the load for infantry troops, who regularly each carry over 100 pounds of gear on foot."
Flyer Defense designed the vehicle which is based off its Ground Mobility Vehicle (GMV) 1.1, fielded with Special Operations Forces, and the Army's interim ISV capability, the A-GMV.
"The Oshkosh and Flyer team brings together an abundance of tactical wheeled vehicle design and manufacturing expertise and we're very confident in our team's ISV offering," Mansfield said.
The National Advanced Mobility Consortium (NAMC) is expected to make an official announcement on the ISV awards soon, while an official familiar with the situation confirmed SAIC had also been selected to deliver prototype vehicles.
For the ISV offering, SAIC will serve as the systems integrator for Polaris' [PII] DAGOR vehicle, which has been fielded to operational units since 2015 (Defense Daily, Aug. 9).
SAIC's capability modifications to the DAGOR vehicle include integration of new C4ISR capabilities, cyber security tools, enhanced surveillance, secure communications and non-kinetic fires, according to the two companies.