Naval Sea Systems Command (NAVSEA) awarded General Dynamics' [GD] National Steel and Shipbuilding Co. (NASSCO) a $1 billion modification on Friday for detail design and construction of Expeditionary Sea Bases (ESB)-6 and -7.
This contract also includes definitization of ESB-6 long-lead time material, pre-production and engineering support.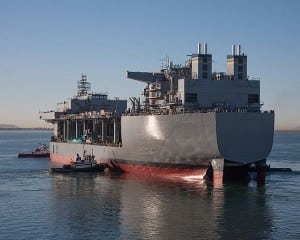 All of the awarded work will occur largely in San Diego; Pittsburgh; and Santa Fe, Calif., and will be finished by January 2025.
The award includes options that, if exercised, would raise the total contract value to $1.6 billion but not extend the timeline.
The $1 billion in fiscal year 2018 and 2019 shipbuilding funds were obligated at award time and will not expire at the end of this fiscal year.
The Navy noted the contract was not competitively procured in accordance with U.S. Code provisions for only one responsible source.
Last October, NAVSEA awarded NASSCO a $137 million undefinitized contract to procure pre-production equipment and work for EPF-6 (Defense Daily, Oct. 19, 2018).