The U.S. has approved sending another $800 million in military equipment to Ukraine, with the latest deal covering drones and more Javelin anti-tank and Stinger anti-aircraft weapons to support Kyiv's ongoing effort to fend off Russia's invasion of the country.
The Biden administration approved a $200 million weapons package to Ukraine on Saturday, with the deal announced Wednesday raising the total to $1 billion in new security assistance approved over the past week.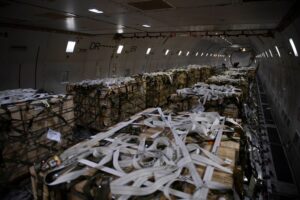 "Now, I am once again using my presidential authority to activate additional security assistance to continue to help Ukraine fend off Russia's assault," Biden said during remarks detailing the latest military aid package. "These are direct transfers of equipment from our Department of Defense to the Ukrainian military to help them as they fight against this invasion."
The new security assistance package was announced hours after Ukrainian President Volodymyr Zelensky addressed U.S. lawmakers, calling for additional support to Kyiv in the form of the U.S. and NATO enabling a no-fly zone and providing combat aircraft and defensive systems.
"If this is too much to ask, we offer an alternative. You know what kind of defense systems we need. You know how much depends on the battlefield on the ability to use aircraft, powerful strong aviation to protect our people, our freedom, our land. [We need] aircraft that can help Ukraine, help Europe. And you know that they exist and you have them. But they are…not in the Ukrainian sky. They do not defend our people," Zelensky said.
White House Press Secretary Jen Psaki said during a briefing on Tuesday that the Biden "continues to believe that a no-fly zone would be escalatory [and] could prompt a war with Russia."
Biden did not address Zelensky's call for a no-fly zone or combat aircraft during remarks, while noting the new weapons package will provide "unprecedented assistance to Ukraine."
The new weapons package is the first instance of the U.S. providing drones to Ukraine, which Biden added "demonstrates our commitment to sending our most cutting-edge systems to Ukraine for its defense."
Ukraine will receive 100 "tactical unmanned aircraft systems," according the White House, with Politico reporting the deal covers AeroVironment's [AVAV] Switchblade drone. 
The latest deal includes 800 Stinger missiles, which Biden said will "make sure the Ukrainian military can continue to stop the planes and helicopters that have been attacking their people and to defend their Ukrainian airspace." 
"At the request of President Zelensky, we have identified and are helping Ukraine acquire additional longer-range anti-aircraft systems and the munitions for those systems," Biden added.
The package also covers 9,000 anti-armor systems, including 2,000 Javelins, 1,000 "light anti-armor weapons and 6,000 of Saab's AT-4 systems.
Ukraine will also receive 100 grenade launchers, 5,000 rifles, 1,000 pistols, 400 machine guns, 400 shotguns, over 20 million rounds of small arms ammunition and grenade launcher and mortar rounds, 25,000 sets of body armor and 25,000 helmets, according to a White House fact sheet on the deal. 
Biden also cited the nearly $2 billion in security assistance deals with Ukraine approved since the start of the administration, which he said has covered "hundreds of anti-air systems, thousands of anti-tank weapons, transport helicopters, armed patrol boats and other high-mobility vehicles, radar systems that help track incoming artillery and unmanned drones, secure communications equipment and tactical gear, satellite imagery and analysis capacity."
"And it's clearly helped Ukraine inflict dramatic losses on Russian forces," Biden said. "Our allies and partners have stepped up to provide significant shipments of security assistance and will continue to help facilitate these deliveries as well. The United States and our allies and partners are fully committed to surging weapons of assistance to the Ukrainians. And more will be coming as we source additional stocks of equipment that we're ready to transfer."
Congress on March 11 passed the $1.5 trillion fiscal year 2022 omnibus spending package, which included $13.6 billion for emergency aid to Ukraine (Defense Daily, March 11). 
The supplemental for Ukraine aid covered $6.5 billion for Department of Defense efforts, including $3 billion for "European Command operations mission support, the deployment of personnel to the region, and intelligence support" and $3.5 billion to replenish defense stocks for equipment provided to Ukraine.