The Army will continue "taking a hard look" at its end strength requirements as it assesses areas where the service can save dollars to continue fully funding modernization facing a tighter budget environment, the Army's chief of staff said Wednesday.
"When I look at the demands for the Army, and we've done studies, we'd like a much bigger Army. But what I do at my level is say what can we actually afford," Gen. James McConville said during a Heritage Foundation discussion.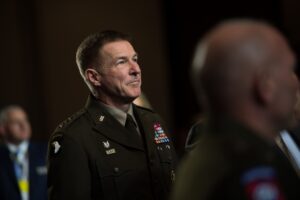 McConville's remarks echo previous comments from Ryan McCarthy, the former Army secretary who left his post at the end of the Trump administration, who said last fall the Army may look at where tweaks can be made to determine "how ready do you have to be" and where funds can be saved (Defense Daily, Oct. 7). 
The Army's upcoming fiscal year 2022 budget request is expected to continue the ongoing "night court" reform process to shift billions of dollars from lower priority programs toward modernization efforts, with officials previously saying there will likely be cuts or reductions to dozens of more programs. 
"We're going to every single area and taking a look at where we can find the money to modernize the Army. I believe we absolutely must do that. At the same time, the end strength we have is what we need to keep. And we've got to make sure that every one of those soldiers that we send into harm's way is trained, so we've got to maintain the readiness also," McConville said.
McConville has said the service won't "have a dollar to waste" as it pushes ahead with its more than 30 signature modernization programs while facing likely flat or declining budgets in coming years, adding he believes the Army will find savings with its shift to focus new platform development around broader "characteristics" rather than more stringent requirements that could help avoid program delays (Defense Daily, Jan. 19). 
"As we go [forward], every program counts. People say 'well, you can't afford everything.' But what you can't afford to do is waste one dollar, and we put a lot of processes in place to make sure that we can modernize the Army," McConville reiterated on Wednesday.