With the Army readying a "big bet on its future readiness" as it moves ahead developing next-generation platforms, the Army's top requirements official said Wednesday he has expressed concerns on finding the necessary efficiencies to fully fund modernization efforts facing potential declining budgets.
Lt. Gen. James Pasquarette, the Army G-8, told attendees at an Association of the United States Army event the Army is on track to begin fielding major weapons systems over the next five years, but leadership must be prepared for tougher programmatic decisions to find additional dollars as leadership finalizes future spending plans.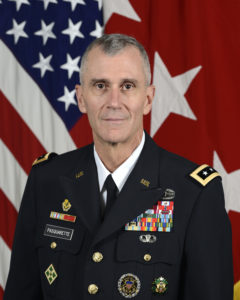 "We've already taken a couple of pretty good hard looks at the portfolio in deep dives, and if we take another third one I'm not sure there's the efficiencies there again to fund what we see coming in this program," Pasquarette said.
Pasquarette detailed the Army's effort over the last several years to get after "future readiness," which culminated in the new "night court" budget review process finding $33 billion to shift from low priorities to modernization efforts over the next five years.
"If FY '18 was priming the future readiness pump and FY '19 was setting the azimuth for future readiness, I'll call FY '20 placing a big bet on future readiness," Pasquarette said.
While Congress and the White House recently agreed on a budget deal that sets spending levels for the next two years at $738 billion and $741 billion, Pasquarette cautioned about setting ambitions while facing smaller budgets, or even flat ones, in the out years.
"Our strategy right now assumes a topline that's fairly flat. I'm not sure that's a good assumption. When the budget does go down, we all know how it works around here, will we have the nerve to make the hard choices to protect future readiness? Often that's the first lever we pull, we try to protect current readiness at the cost of future readiness," Pasquarette said. "I just don't know if there's enough efficiencies and reforms under a steady topline to do all that."
Pasquarette's remarks echoed recent comments from Army leadership who noted that the Army must prepare for tougher divestiture decisions with less "low hanging fruit" available to make cuts to fund modernization (Defense Daily, Sept. 4).
The Army G-8 added the service remains committed to its six priorities and the over 30 underlying programs, with several major platforms to be fielded over the next several years including the Next Generation Squad Weapons, a first hypersonics battery and the Optionally Manned Fighting Vehicle in 2026.
During Wednesday's event, Pasquarette also noted the Army is preparing for the likelihood that Congress is heading toward a continuing resolution (CR) if lawmakers don't finalize a budget before the end of the month.
"We've heard rumor of a short term CR in FY '20. That will allow Congress time to work the appropriation and, as long as the CR is kept to a couple months, it won't drastically impact Army readiness," Pasquarette said. "If we have a short-term CR,what is ost it's going to be okay. We're not jumping off buildings because of that. Our relationship with Congress is very good. I think we're getting closer, we do have a budget agreement thanks to Congress working with the president. I think we're in a relatively good place moving forward."
Lt. Gen Paul Ostrowski, , told Defense Daily following Pasquarette's remarks that a short-term CR would likely impact over 20 programs, including both new starts and production increases.
"CR's do impact us. They're bad across the board. We hate them. We know Congress is going to try to push as hard as they can. We've got a topline so there's really no reason why we can't get it done, but it's just a matter of the SAC-D marking as late as they did," Ostrowski said.