Senior Army leadership is preparing for increasingly tougher choices as it looks to continue divesting from legacy systems to fully fund modernization efforts as the service begins finalizing acquisition objectives for new platforms.
Officials told attendees at the Defense News
conference Wednesday that the Army will continue the "night court" process to find more funds to shift over to higher priorities as its cross-functional teams gain a better idea of the number of systems that will be procured.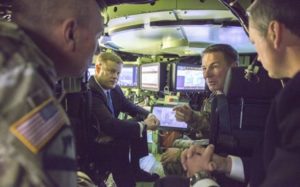 "Every dollar that goes to the cross-functional teams goes away from a program that is important, but not quite as important as what we're working on for the future," said Gen. Mike Murray, leader of Army Futures Command. "There is a lot less sources available to look at this time around. And next year we'll do it again and it'll be even less."
The Army's FY '20 budget request detailed $33 billion officials found that would be shifted to fund the 31 programs across the service's six modernization priorities over the next five years.
Planned cuts to legacy systems included reducing the buy of the CH-47 Chinook in the out years and truncating the procurement of the new Joint Light Tactical Vehicles (JLTVs) over that five-year period, while retaining the current acquisition objective.
Acting Army Secretary Ryan McCarthy said officials will continue looking for opportunities to divest from legacy systems as the CFTs work through and then complete prototyping of future platforms such as Future Vertical Lift platforms and Bradley-replacing Optionally Manned Fighting Vehicle.
"We need to find every penny we can to finance our ambition," McCarthy said. "As you go down the path, that volume will increase. You'll have to buy tranches of capabilities, a dozen, a hundred, a thousand. As we start to lay those out in formations and test them out at scale, that will cost more money. There is more opportunity in the budget, but you have to make choices."
Gen. James McConville, the Army chief of staff, reiterated that the Army is set on its six modernization priorities, adding that he would tell industry "that's where the money's going first."
"We're trying to be very clear about our priorities with industry. We've made a commitment, the secretary and myself as we've taken over our new roles, that the priorities are not going to change."
McCarthy said the Army is making a concerted effort to communicate with industry on areas where the service may divest while pointing to the opportunities available within the range of modernization priorities.
"Our communication has been extremely robust with the private sector," McCarthy said. "We're going to make choices, in terms of, are you going to bring in this new helicopter into our formation and will that replace a Black Hawk or an Apache. These programs have to mature so that you can make a decision or a divestiture."