The cancellation of the Redesigned Kill Vehicle (RKV) has set back updates to the Ground-based Midcourse Defense (GMD) missile defense system by several years, a top Defense Department official said.
When asked at the annual Defense News conference how much a setback the RKV cancellation is, Under Secretary of Defense for Research and Engineering Mike Griffin said, "well, obviously we weren't pleased."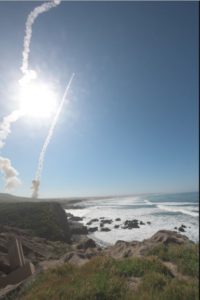 While the Missile Defense Agency (MDA) tried to create RKV as an upgrade to the current Ground Based Interceptors (GBI) used by the GMD system, the government encountered serious technical problems.
"We encountered some issues that we didn't think were recoverable without a very substantial redesign, and so we stopped work and so we are redesigning. In an unclassified environment, we're going to be down by a few years," Griffin said.
He acknowledged that "not every development works out" and noted the RKV did not get past the Critical Design Review.
"We chose to recognize that fact rather than just continue to throw money at it, we're going to start over," Griffin added.
MDA first announced a two-year delay in the RKV program in March because they had to push back the critical design review (Defense Daily, March 12). In May, Griffin directed the stop-work order to GBI prime contractor Boeing [BA] and started an analysis of alternatives due to the technical issues  (Defense Daily, May 24).
MDA planned to install 20 new RKVs on GBIs at the Ft. Greely, Alaska, missile defense site, but the RKV cancellation is delaying the installation.
An annual Government Accountability Office report in June said the design issues would increase the RKV's cost by up to $600 million (Defense Daily, June 6).
Griffin also admitted the $1.2 billion obligated to Boeing and RKV contractor Raytheon [RTN] will not be paid back to the government.
No paybacks are due because "we terminated for convenience, not for fault," Griffin said.
He reiterated the DoD "learned quite a lot" it will carry into the follow-on Next Generation Interceptor (NGI) program.
"So the money which was spent did not go toward hardware which will be mothballed somewhere, it went toward the acquisition of knowledge which will inform our future," Griffin said.
Last week, MDA posted a notice to FedBizOpps it was briefing industry on a draft Request for Proposals for the NGI acquisition, starting with a Kick-off Industry Day with potential offerors (Defense Daily, Aug. 27).