A Senate panel recommended adding $222 million to the Missile Defense Agency's FY 2020 budget to help it move from the canceled Redesigned Kill Vehicle to the follow-on Next Generation Interceptor (NGI) program.
The Senate Appropriations defense subcommittee recommended appropriating a $728 million realignment within the MDA FY 2019 and 2020 funds in the wake of the cancellation of the RKV program.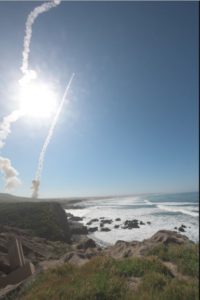 MDA canceled the RKV last month after it first announced a two-year delay due to pushing back the Critical Design Review, then issuing a stop-work order due to technical issues (Defense Daily, Aug. 21).
A June Government Accountability Office report said the design issues delaying the RKV would have increased costs by nearly $600 million (Defense Daily, June 6).
The subcommittee's summary of its FY '20 defense appropriations bill said the larger realignment specifically includes an additional $222 million for the NGI program.
The Defense Department has not said how much longer this new NGI approach will take compared to the RKV, but last week Under Secretary of Defense for Research and Engineering Mike Griffin said the work will be down "by a few years" (Defense Daily, Sept. 4.).
MDA had planned to install 20 new RKVs atop Ground based Interceptors (GBIs) for use in the Ground-based Midcourse Defense system, hosted at the Ft. Greely, Alaska, missile defense site.
The subcommittee recommended an overall increase of $1.2 billion above the DoD's original MDA FY '20 request, including $635 million for several unfunded requirements.
This includes $108 million for the Hypersonic and Ballistic Tracking Space Sensor (formerly the Space Sensor Layer), $238 million to accelerate hypersonic defense programs, and $153 million for cyber security unfunded requirements.
The panel also recommended another added $692 million for "additional MDA requirements" like $180 million for GBI reliability/Service Life Extension Program upgrades, $217 million for six more boosters, $135 million for GBI launch silo improvements, and $91 million for radar upgrades and spares.
The subcommittee advanced this as part of the overall $695 billion FY 2020 spending bill to the full committee on Monday, which is set to consider it on Thursday (Defense Daily, Sept. 10).