The State Department has approved a potential foreign military sale (FMS) worth $6.5 billion of F-35A Joint Strike Fighters to Poland, the department said Sept. 11.
The sale, if approved by Congress, would include 32 of the conventional takeoff-and-landing variant in use by the Air Force, along with 33 Pratt & Whitney [UTX] F-135 engines and many F-35 subsystems, spares and repair parts, and logistics and training equipment. Lockheed Martin [LMT] builds the F-35.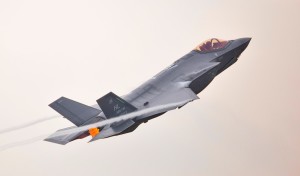 "This proposed sale will support the foreign policy and national security of the United States by improving the security of a NATO ally, which is an important force for political stability and economic progress in Europe," said the State Department in a release Wednesday, adding that the sale will "augment Poland's operational aircraft inventory and enhance its air-to-air and air-to-ground self-defense capability."
Congress was notified Tuesday of the approved sale, said a State Department official in an emailed statement. Lawmakers have 30 days to consider the FMS case.
In April, Pentagon officials indicated in hearings before Congress that the department planned to sell the F-35 Joint Strike Fighter to Poland, as well as countries including Greece, Singapore, Romania and Spain. The former Soviet country would use the F-35A to replace its aging Russian-made Mikoyan MiG-29 jet fighter and Sukhoi Su-22 fighter-bomber fleets.
"Lockheed Martin is encouraged by the U.S. State Department's approval of the proposed sale of 32 F-35A aircraft to Poland," said Michael Friedman, F-35 spokesman at Lockheed Martin in an emailed statement Wednesday. "This is a significant step in the acquisition process and toward meeting Poland's goal of having their first aircraft delivered by 2024."
Over 425 F-35s have been delivered to date to U.S. and international customers. Should the Poland deal be finalized, the European country would become the 14th nation to join the program – to include the United States – as well as the 10th NATO nation and eighth European nation.
To date, those numbers include Turkey, which is a NATO member-nation and remains an F-35 development partner. While Pentagon officials have said it would be removed from the program following the delivery of the Russian-made S-400 weapon system, the removal has not yet officially occurred.