NATIONAL HARBOR, Md. — Secretary of Defense Mark Esper on Wednesday said the Defense Department is realigning its resources and activities to support its highest priorities under the National Defense Strategy (NDS).
Speaking at the Air Force Association's 2019 Air, Space & Cyber Conference here, Esper said one way the "collective effort is underway to realign our resources and activities" is through a defense-wide review.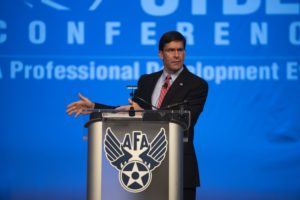 This "is putting a microscope to our budget. Our current focus is on what's known as the Fourth Estate, but eventually we will address other parts of the DoD enterprise."
The 4
th Estate encompasses various organizational entities inside DoD that are not in military branches or combatant commands like the Defense Intelligence Agency, DISA, and the National Reconnaissance Office.
The secretary argued the effort is not just about saving money, but it will also "give our warfighters more of what they need to deter our adversaries and, if necessary, to fight and win."
Earlier this month, the Pentagon said it will implement program cuts to find cost savings across the Fourth Estate on a rolling basis, similar to the "night court" process Esper started as Army Secretary (Defense Daily, Sept. 9).
In Esper's first press briefing he said he would look to start the defense-wide review process starting with the Fourth Estate (Defense Daily, Aug. 30).
In the process proposed cuts will start in the services, then move to the senior DoD level, where Esper will host a review with relevant parties.
The Army previously announced its first "night court" effort realigned $33 billion from low priorities, including cutting 93 programs and truncating the buys of another 93 programs.
Esper underscored the importance of gearing the department against near-peer adversaries named in the NDS, Russia and China. Both have been modernizing and expanding their influence while the U.S. has focused on Middle East and Afghanistan conflicts.
If the U.S. wants to remain the preeminent military power, DoD must face these challenges head on as some of its long-held advantages start to diminish vis a vis Russia and China, Esper said.
He underscored everything the department does should work towards goals in the NDS. If something does not match, officials should question why they are doing it in the first place, Esper said.
On Tuesday, Acting Secretary of the Air Force Matthew Donovan told reporters in late fall 2017 then-Secretary of the Air Force Heather Wilson and Air Force Chief of Staff Gen. David Goldfein signed on to a zero-based review that started its own version of "night court" for the 2019 budget.
The Air Force also did it for the FY '20 budget where, "as the undersecretary, I spent about 40 hours over a two-week period, going through every program in the Air Force and scrubbing it for, number one, alignment to the national defense strategy," Donovan said.
Donovan also explained the planning, programming, budget, and execution system goes through the process every year and "we started two years ahead of time – We generally tend to focus in on the changes from the previous year's budget. And so there's big chunks of budget that go through every year that may not get the scrutiny that they should."
Donovan was unwilling to disclose the night court cuts submitted in the Program Objective Memorandum to the Office of the Secretary of Defense (OSD) for the FY '21 budget request and Future Years Defense programs "because that could change based on program and budget review as we go through the year because, remember, this is our proposal to OSD."
He added Esper's office, the White House, and the Office of Management and Budget will also get to make changes.
While he does not know how it ended up after the Air Force process, Donovan said the cuts are substantial and in the "same ballpark" as the Army night court reductions.
Esper said Congress has generally been receptive on DoD reform and DoD must take advantage of current budget levels Congress will approve.
"We all recognize the budgets are at the highest they may well be for some time, so if we do not capitalize on this moment, we will lose it and we could find ourselves well behind for many, many, more years to come."
Separately, Esper said DoD is instituting a process to review force posture and major operational plans.
Not only must we ensure we are doing things right, we must ask ourselves are we doing the right things," Esper continued.
"From budgeting to modernization to operational planning, we're instituting a disciplined approach to NDS execution, ensuring our time, money, and manpower are being used most effectively."
Esper said over time this work is helping the department better understand how to balance current and future requirements.
"It's allowing us to more effectively trade off building readiness with consuming readiness," he said.