Bell [TXT] is preparing for the Marine Corps to move ahead with its MUX sea-launched drone effort with two new capability showcase efforts this year and plans to solicit air vehicle designs in mid-2020, a company officials told Defense Daily on Tuesday.
Todd Worden, Bell's senior manager for advanced vertical lift systems, said the company, which is offering its V-247 tiltrotor UAS for MUX, is preparing for the Marine Corps to detail new "prize challenges" before the end of the year for the future drone's mission systems architecture and payload adapter.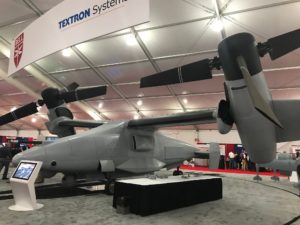 "That's our focus. We want to make sure we provide a good response back to the Marines for those capabilities," Worden said.
The MUX prize challenges is the Marine Corps approach to understand industry's ability to deliver individual components, and comprise responses and select demonstrations.
Earlier this summer, officials released the first four prize challenges focused on ISR, electronic warfare, airborne early warning and data relay.
Worden said Bell's final responses for each of those areas are due to the Marine Corps next week.
The Marine Corps is likely to select a winner to the Air Vehicle prize challenge in late FY '21, before ultimately awarding a contract in the first quarter of FY '22 for a vendor to deliver three MUX prototypes.
"The Air Vehicle prize challenge next year is the next milestone that we're looking at," Worden said.
Marine Corps officials have previously said MUX is intended to be a high-altitude long-endurance MUX drone that can launch from a ship, perform reconnaissance and relay communication to deployed ground forces for about $20 million per copy (Defense Daily, May 8).
Bell's V-247, which the company first unveiled in 2016 and then showed the first mock-up last year, is the size of a UH-1Y Huey aircraft and includes similar components to the company V-280 Valor tiltrotor aircraft, according to Worden.