ManTech [MANT] said Wednesday the company has received a five-year, $118 million task order to continue supporting the Naval Surface Warfare Center in advancing intelligence, surveillance and reconnaissance capabilities for drones.
Under the deal, awarded as part of the multiple-award Department of Defense Information Analysis Center's (DoD IAC) contracting vehicles, ManTech said it will provide "innovative technology solutions" for platforms such as the Northrop Grumman
-built [NOC] MQ-4C Triton.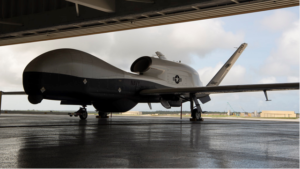 "At ManTech, intelligent systems engineering is a core competency where we excel at developing innovative solutions that set the bar for advancing the customer mission in new, exciting and unprecedented ways," David Hathaway, executive vice president and general manager of ManTech's defense sector, said in a statement. "Under this important recompete win, our aim is to ensure battle-space dominance at speed across the full range of combat scenarios."
More specifically, ManTech will support the Naval Surface Warfare Center with model-based system engineering and electro-optical infrared sensors "for superior situational awareness in all light conditions."
ManTech noted it will bring in the company's advanced cyber range environment, or ACRE, to support the work.
"End-to-end encryption will ensure the security and integrity of systems – and all data captured for ISR," the company wrote in a statement.
The $28 billion DoD IAC contracting vehicle allows government customers to place orders with 22 selected vendors through 2028 for programs ranging from cyber security and information systems to homeland defense and security.