The Army is set to brief lawmakers soon on its new 15-year, likely $16 billion organic industrial base modernization plan and is also moving ahead with a new focus on bringing advanced manufacturing capabilities "to the tactical edge," the service's top logistics official said Tuesday.
Gen. Ed Daly, head of Army Materiel Command, told reporters he will first brief Army senior leaders on the details of the 15-year plan within the next 30 days, before going to the Hill and laying out the investment strategy to upgrade its depots, arsenals and ammunition plants.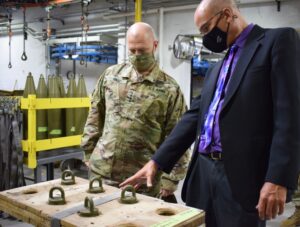 "The organic industrial base was designed, and really implemented in World War II. And so, what we have is really a 20th century capability to support a 21st century Army and joint force," Daly said.
Army senior leaders have previously told lawmakers the long-term organic industrial base modernization plan will include a focus on transforming facilities around open architecture designs to allow for more modular manufacturing practices and pathways to reduce reliance on foreign suppliers for critical materials (Defense Daily, Oct. 13 2020).
Daly has also previously said the plan will look to integrate more robotic, artificial intelligence, machine learning and high-speed data processing capabilities across the Army's organic industrial base facilities (Defense Daily, March 18 2021).
On advanced manufacturing, Daly noted he has grown his vision for proliferation of advanced manufacturing capacity at the division and corps level down to the battalion and brigade level, so operators can potentially print 3D parts out in the battlefield.
"The way I see it, we'll be doing advanced manufacturing not only in our depots, arsenals and ammunition plants but also forward in the battlespace based on equipment that we have, whether it's 3D printers, [Computer Numerically Controlled] lathe capability, etc., coupled with a digital thread where we can pull 3D [computer-aided design] drawings and then enter those specifications into the equipment so we can actually build," Daly said.
Daly said the Army is also making progress on building its data repository, or "digital thread," of information for parts to be 3D printed.
"One, we're making progress on the number of parts that we have drawings for that we know we can 3D print. Two, we're making progress on the digital thread that's in place now so that, no matter where you are, whether you're at the tactical edge or in a depot, you can see all of the required files you need to 3D print a part," Daly said.
Army Materiel Command's ongoing work to finalize its investment strategy for modernization initiatives over the next half decade will include ensuring equipment is in place to conduct advanced manufacturing whether it's in depots or out on the tactical edge, according to Daly.
"I think we're on a very, very good trajectory. I firmly believe that it's these capabilities [at the depot level] that will allow increased velocity and production and manufacturing and resetting and overhauling of equipment. And at the tactical level, it'll increase readiness," Daly said. "We have a strategy and we're inserting those investment requirements into our budget programming efforts and eventually the budget over the next five to seven years."