NATIONAL HARBOR, Md. – The Air Force is considering whether to move funding from the B-1B Lancer program to buy additional next-generation B-21 bombers in the fiscal year 2021 budget, as changes are considered for the overall future of the aging bomber force.
Accelerating procurement of the Northrop Grumman
[NOC]-developed B-21 Raider is a priority for the service, Air Force Chief of Staff Gen. David Goldfein said Sept. 17 at a media roundtable at the Air Force Association's Air, Space and Cyber conference here.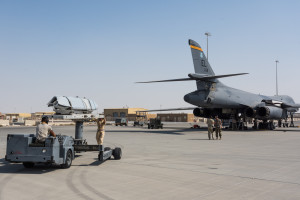 The service has announced plans to retire the B-1B Lancer "Bone" fleet over the next decade – as well as the B-2 Spirits – while development continues on the new B-21. Acting Air Force Secretary Matt Donovan confirmed Monday that the B-21 is currently being built at Northrop Grumman's Palmdale, California, facility.
First flight of the B-21 is currently scheduled for 2021, officials previously said. While more funding may not push the program to the left in terms of schedule, "I'm hoping we can accelerate in terms of numbers," Goldfein said. The Air Force has indicated a desire to procure 100 B-21s, but a number of government-sponsored reports have shown the service may require even more aircraft, he added. "I'm 100 percent lockstep with those analyses," he said.
Along with additional B-21s, the released funding meant for B-1s could go to long-range strategic precision weapons and the ongoing B-52 re-engine competition, he added. Air Force leaders did not describe how much funding would be shifted.
Operational use of the B-1B have caused "significant structural issues," Goldfein said. The aircraft was designed to fly high speeds at slow altitudes, to penetrate enemy defenses and take out targets. But for the last 18 years, it's been flown at medium-altitude, "very slow, wings forward" for missions in Afghanistan where it was determined to be the "optimal platform," he said.
"We flew the B-1 in the least optimal configuration for all these years, and the result of that is we put stresses on the aircraft that we did not anticipate."
Retiring some of those B-1s could push funding to the B-21, he noted. "The discussion we're having is, are there some number of B-1s that would be so cost-prohibitive to get back to a Code 1 [mission readiness] status that we should retire [them] … and then flow that money to do some key things within the bomber portfolio."
Goldfein declined to provide more details regarding the ongoing FY '21 Program Operation Memorandum (POM) process during the media roundtable, but told the conference audience in an earlier keynote speech to expect a significant investment in penetrating capabilities.
The bomber fleet does need to grow, mostly meant to counter growing threats from China, Goldfein said. The service currently maintains a total of 157 B-1Bs, B-2s and B-52s in the fleet.
It will likely require at least 225 bombers to fulfill mission sets laid out in the 2018 National Defense Strategy, Air Force Global Strike Command Commander Gen. Timothy Ray said in a Monday keynote speech at the AFA conference, adding that current plans include 100 B-21s and 75 B-52s once the B-1Bs and B-2s retire. "That doesn't get it, if we're really going to try to grow past 225."
He noted that if the B-1Bs can pass fatigue tests, it may be worth holding onto them longer than previously expected to make up the difference. The fleet has been grounded several times over the past year for various technical issues. However, the service has taken advantage of those stand-downs to address ongoing technical discrepancies on the aircraft, going from 1,400 discrepancies down to 400, "heading toward 200," he added.
The B-1 – if it's found to have more life remaining than previously expected – could be used as a fast attack aircraft, and could possibly carry four to eight large hypersonic weapons, Ray said. The bomber could carry Lockheed Martin [LMT]-built AGM-158 Joint Air-to-Surface Standoff Missiles (JASSM) and AGM-158C Long-Range Anti-Ship Missiles (LRASM) on its exterior hardpoints, which had previously been deactivated, he added.