A top Navy official confirmed the service is examining anomaly requests for a possible longer-term continuing resolution (CR) while a Marine Corps official expected no anomalies for his service.
Lt. Gen. Eric Smith, Commanding General of the Marine Corps Combat Development Command and Deputy Commandant for Combat Development and Integration, said the Marine Corps is very unlikely to get any anomalies, should the CR last past the current December timeframe.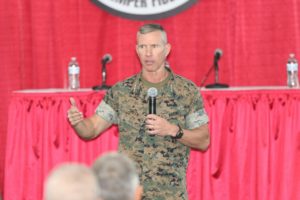 "I'll stick with a baseball analogy…anomalies do get granted at about the same rate that the Texas Rangers win the World Series, which hasn't happened yet. It's very infrequent. Congress holds that power, they should hold that power – they have the power of the purse….that is their job, so I don't knock the fact that anomalies are very, very infrequent because they in fact overturn the CR. So it is incredibly hard to get an anomaly," Smith said at a U.S. Naval Institute conference on Thursday.
He added that at the scale of their program, "we're very, very, very, very unlikely to get an anomaly up through the Marine Corps."
In contrast, Vice Adm. James Kilby, Deputy Chief of Naval Operations for Warfighting Requirements and Capabilities, N9, said the Navy is looking at an anomaly list and preparing for that possible outcome.
"There is an opportunity [for anomalies], we are always kind of thinking about the list and position ourselves for that outcome. Again, hopeful that we can get through this as quickly as possible because there's a lot of programs that are affected, Kilby said.
The Navy has an aggressive schedule for new programs like the large unmanned surface vehicle (LUSV), medium unmanned surface vehicle (MUSV), and FFG(X) future frigate program.
Kilby said those specific new start programs are important and cannot move forward under a CR, but also underscored there are research and development efforts "critical for lethality."
"So we've made investments to try to shift to a sea-control power projection Navy that are important. So choosing those wisely is something that we have to look at…we've got to get this on track so we can execute that program, the whole Navy program appropriately."
Kilby added while he's generally an optimist with strategic guidance aligned and consistent as the military refocuses on near-peer competitors, "I'm a pessimist when I think about continuing resolutions."
"And I have a piece of paper on my desk that tells me by month what the impact is" on the priorities of strategic deterrence, readiness recovery, capability and lethality, and capacity, in that order of importance.
This lets him see the impact on capacity, lethality, research and development efforts, modernization, or overhaul efforts.
"And that's significant and on my minds and should be on all of our minds," Kilby added.
Last month, the Navy's top acquisition official James Geurts and comptroller Thomas Harker told reporters the service is working on a list of high-priority programs they would seek exemptions/anomalies for to allocate funding under a subsequent longer-term CR (Defense Daily, Nov. 15).
"We have started developing that list. This year, because of the way the acquisition contracts are structured, we don't need any anomalies in the first quarter," Harker said.
Geurts noted the service already typically scheduled major awards later in the fiscal year to limit the impact of potential CRs, but a longer term stop-gap measure would delay the future frigate program, for example.
"We're certainly pushing an award date in our mind for the [Future] Frigate. [It] depends on the selection process that's ongoing. If at that point we have not gotten either a full budget or an anomaly, then our only choice is to delay the decision. If we are in a full-year CR without anomalies, I would not be able to award the frigate this year," Geurts said in November.