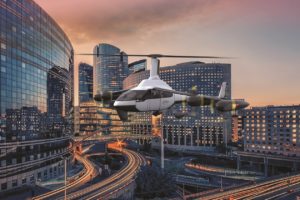 BAE Systems signed a memorandum of understanding (MoU) with Jaunt Air Mobility to develop electric energy management systems for their aircraft, which is one of Uber's [UBER] six announced partners for its Elevate urban air mobility project.
As part of the MoU, BAE will work with Jaunt and its structural engineering partner, Triumph Aerospace Structures, to develop and certify Jaunt's Reduced Rotor Operating Speed Aircraft (ROSA).
BAE will work with Triumph [TGI] to integrate hardware and software for the aircraft's battery management system as well as managing the actuation and high-voltage power distribution around the aircraft, though the agreement could open the door to further BAE involvement in other elements of aircraft electrification and flight controls. Jaunt has not yet selected suppliers for its electric motors and motor controllers, according to Jaunt CTO Martin Peryea.
"We spent a lot of time looking to see what's available out there … there's a few technology companies that are wanting to move into this space, but BAE brings a long history of systems development and certification with advanced software systems and flight control computers and engine FADECs," Peryea told sister publication Avionics International. "They have good experience relative to battery design and supporting battery systems in their ground transportation systems."
This is the first public agreement BAE has signed in the aircraft electrification space. Though its deep experience in developing electric propulsion and management systems for ground vehicles as well as avionics and flight controls for aircraft make BAE a natural fit for urban air mobility OEMs, the company was not an early entrant into the industry, though it is now discussing partnerships with multiple electric and hybrid-electric aircraft OEMs, according to Yeshwanth Premkumar, business development and strategy lead for aircraft electrification at BAE Systems.
"Our collaboration with Jaunt Air Mobility brings together the strengths of two industry leaders to closely examine the future of the urban air mobility and new product development … We're focused on the application of our energy management systems, and exploring options for the controls capabilities for Jaunt's future fleet of air vehicles," Premkumar told Avionics International. "We are discussing opportunities with several original equipment manufacturers related to flight controls, energy management systems and power solutions for both electric and hybrid electric aircraft."
Peryea is confident that BAE is the right choice for Jaunt through certification and into production, as they produce 2,000 battery packs a year out of their facility in New York for buses and other ground transportation vehicles.
"When you look at the requirements for a motor vehicle, which is subject to a lot of ground vibrations because of potholes and the like, it's actually not far off from that of an aircraft — other than the crashworthiness aspect," Peryea said. "BAE also has the financial resources that can take this through development and certification, as well as the maturity, the capabilities and the commitment to moving into this new ecosystem. It's part of their strategic plans."
According to Premkumar, BAE has been testing battery cell technologies and products for the past 15 years, including "new formats of current Li-NMC, Li-Ti or Li-Air or future state technology like metal anodes, Li-S, or any other non-metal based solution including solid state cells and self-heating solutions."
"We use this test data to help cell developers understand application and market needs so that they can mature and get the technology to be market ready," Premkumar said, adding that BAE will expand upon its in-house testing and development facility in Endicott, New York, with a new energy management lab for aircraft the company plans to open next year.
Based on a preliminary analysis of energy demands, charge and discharge rates conducted for Uber earlier this year, Peryea said Jaunt is confident its aircraft can meet and exceed the rideshare giant's mission requirements, which entail less than 7 minutes between drop-off and pickup.
"Our aircraft is so efficient in hovering and in forward flight … it was sized for the more stringent requirements Uber previously set, so we have margin in our design right now," Peryea said.