After the Army received a $3.6 billion topline cut in the president's fiscal year 2022 budget request, the service's new secretary told lawmakers Tuesday she would "certainly welcome additional funds" as Congress considers the Army's unfunded priorities list and assembles future spending plans.
Lawmakers pressed Army leaders during two hearings on Thursday on reductions to procurement and research accounts in the budget request and plans to delay upgrades for select legacy systems, with one official predicting the service will face "downright excruciating choices" when it comes to future program cuts to find additional savings.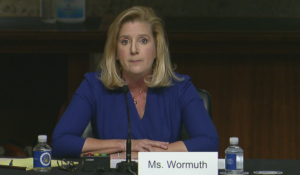 "The Army, I mean you guys are getting gutted. Let's call it like it is. Madame Secretary, in your confirmation hearing you told this committee you do not want the Army to be the bill payer for everybody else. You are the bill payer right now," Sen. Dan Sullivan (R-Alaska) said to new Army Secretary Christine Wormuth, referencing the Army receiving a budget cut in the request while the Air Force and Navy saw topline increases.
Wormuth's comment on welcoming additional funds was in response to Sullivan, while also telling the panel that the Pentagon's ongoing posture review and a new national defense strategy may help to "really scrub our current operational requirements" and find potential additional areas for savings.
"I think it will be very important, in terms of looking to the future, to look at how that new strategy is developed and what it requires the Army to do," Wormuth said. "I think as [Army Chief] Gen. [James] McConville and I go forward into future [planning guidance] builds, we're going to have to be looking carefully at what is the strategy call upon us to do, what do we think are the current demands from combatant commanders and can we meet those current demands while also protecting our modernization efforts, which is going to be critical"
The Army's budget request includes an 11 percent total cut to the service's procurement and research and development accounts, while McConville said the funding levels secure continued progress on the full range of modernization programs with over 72 percent of science and technology dollars going towards the "31 plus four" signature systems (Defense Daily, May 28).
"As we take a look at the budget, we're always concerned about making cuts. What the secretary and myself have to do is look across the portfolio and determine what are the must, must-dos. So for science and technology, we have reoriented our resources so they are focused on our top priorities," McConville said. "Could we use more in those other areas? Absolutely. But the secretary and myself have got to make tough decisions and those tough decisions are based on the priorities we need to be effective in the future."
The Army's latest round of "night court" program reforms to find savings to shift from lower priorities toward modernization efforts included canceling 7 programs totaling $48 million and reducing another 37 programs to find over $1.5 billion (Defense Daily, June 3).
"Several years of ruthless prioritization, eliminating, reducing and deferring lower priority and less necessary efforts, as well as divesting of legacy capabilities, has left little flexibility in our topline. We made the easy choices the first couple of years of this effort. We're now well into the realm of hard choices, really hard choices and downright excruciating choices," Lt. Gen. Erik Peterson, the Army G-8, told lawmakers at a Senate Armed Services Committee Airland Subcommittee hearing later in the day.
Sen. Tammy Duckworth (D-Ill.) and Tom Cotton (R-Ark.), the chair and ranking member on the subcommittee respectively, raised concerns that the Army's key focus on fully funding modernization may lead to neglecting necessary upgrades for systems that will remain in the field for decades to come.
"While I agree with the decision by the Army to focus on its highest modernization priorities, I am concerned, nonetheless, that delaying modernization of assets like the Abrams tank, without a replacement even on the drawing board, leaves our nation less secure, our troops less prepared and our Army less ready for great power conflict. The decision to dramatically slow the modernization of the primary platforms used by today's soldiers is extremely troubling," Cotton said.
Doug Bush, the Army's acting top acquisition official, said planned program reductions means the service must accept some level of risk while noting that several areas are included in the unfunded priorities list submitted to Congress.
"We did accept risk in some areas of the budget in terms of slowing down things, such as Abrams modernization and other things, in an effort to protect the highest interests," Bush said. "But there was an attempt to do that wisely, to not damage the industrial base as part of that, and to not place undue risk, while there was always some risk, on the operational force by slowing down modernization efforts outside of the [signature systems]."
The Army's unfunded priorities list, sent to Congress on June 1, includes requesting $4.4 billion in additional funding for ongoing projects such as Abrams tank upgrades, $120 million to procure 340 more Joint Light Tactical Vehicles and $252 million to procure five more CH-47F Block II heavy-lift aircraft (Defense Daily, June 2).