The Army's lead official for Future Vertical Lift (FVL) said Wednesday the service should not have an issue affording development of both the Future Long Range Assault Aircraft (FLRAA) and Future Attack Reconnaissance Aircraft (FARA), citing critical lessons learned with the failed Comanche helicopter program.
Maj. Gen. Walter Rugen, director of the FVL Cross Functional Team, provided his outlook as the Army gets set to release the final Request for Proposals for FLRAA production in the third quarter of this fiscal year before selecting a winner between Bell [TXT] and a Sikorsky [LMT]-Boeing [BA] team in late FY '22.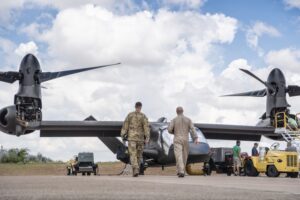 Rugen said it was "a false choice" when asked during a discussion at the virtual AUSA Global Force Next conference what the Army would do if faced with having to prioritize between FLRAA and FARA development.
"When you look at our budget you have to take it in as a portfolio, as a whole. We get graded on the portfolio of the 1990's a lot, which is where that question stems from. In the 1990s we had a lot of A-model Black Hawks, A-model Apaches, C-model Chinooks, A and C-model Kiowa Warriors and we were also doing Comanche," Rugen said. "I don't view it as a choice. It's not that we couldn't do one [platform] with Comanche. It's that we couldn't do five [platforms at the same time]. When you look at late this decade, we'll be doing two [platforms]."
Brig. Gen. Rob Barrie, Program Executive Officer for Aviation, echoed Rugen's comments and said the Army's commitment to maintain full funding across its modernization priorities means a decision between choosing either FLRAA or FARA is unlikely to happen. 
"I agree completely. It's a matter of priorities. Look, it's not a 'want to have,' it's an imperative. Modernization is an imperative. So long as that remains the Army priority, which I believe it will, then we're going to continue to find ways to execute these programs," Barrie said. "I don't see it as a choice. It's a matter of us prioritizing those efforts."
On FLRAA, Rugen said the Black Hawk replacement program has "continued its significant and successful momentum" as the service readies a new deal in the coming weeks to Bell and Sikorsky-Boeing to continue their work on the program's risk reduction phase.
Sikorsky and Boeing recently detailed Defiant X, their updated offering for FLRAA which builds on the SB>1 Defiant technology demonstrator platform the companies have flown for several years, and includes enhancements to the design to reduce thermal signature, improve aerodynamic handling, and include fly-by-wire flight controls integrated with autonomy capability (Defense Daily, Jan. 25). 
In December, Bell said its V-280 Valor tiltrotor offering for FLRAA has reached 200 flight hours, noting the platform has also flown at speeds above 280 knots (Defense Daily, Dec. 17). 
Rugen called FARA, which will serve as the future "knife fighter" helicopter to fill the gap left by retiring the OH-58D Kiowa Warrior, a "number one [capability] gap," with the Army set to hold its first flight test with Sikorsky and Bell's prototype offerings in the first quarter of FY '23.
The Army selected Bell's 360 Invictus and Sikorsky's Raider X designs to move onto the FARA competitive prototyping phase in March 2020 (Defense Daily, March 25 2020).