The Army's fiscal year 2023 budget request is expected to include near-term items required for its new Arctic strategy, with the service currently working through a capability gap assessment to inform new equipment needs for the region. 
"I imagine in the [FY] '23 budget we'll start seeing the very first decisions about more winterization, that would be one example that could happen. We have a year to dig into those questions and see where we want to have the money go. And all that is, of course, pending decisions from the secretary of the Army and the chief [of staff]," Col. Jason Clark, chief of the Strategy Division within the Army G-3/5/7, told reporters Wednesday.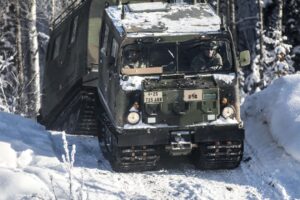 The Army released its new Arctic strategy on Tuesday, which included details on broad needs for an improved cold-weather all-terrain vehicle, new power generation systems, unmanned technologies and space-based communications systems to support future units in the region (Defense Daily, March 16). 
"We have a long time period for the implementation of this, in terms of its full implications. So there are some immediate tasks in building the capability of our forces, in terms of changing some of the ways we do training and there'll be some easy things we can do in terms of equipment, at the most simple levels of equipment," Clark said. 
Elizabeth Felling, a strategic planner in the Army G-3/5/7, told reporters the Army is continuing to consider its Small Unit Support Vehicles (SUSV) replacement program as an option for the future cold-weather all-terrain vehicle.
"We are continuing with the plan for the [SUSV] replacement, however as we modernize the force and do some analysis on those mobility challenges that we outlined in the document, we can inform our modernization efforts of those potential future requirements," Felling said.
The Army released a Request for Proposal last June for the Cold Weather All-Terrain Vehicle (CATV) program, with plans to award up to two prototype deals to find a replacement for its SUSVs.
BAE Systems said last July it was looking to offer its Beowulf tracked vehicle and armored BvS10 variant for CATV, which the company said is designed to operate in arctic environments carrying cargo and personnel (Defense Daily, July 16). 
"At this point there's nothing we can say other than there are some programs that are already in motion, but other than that it's premature to say anything about the extent or nature of the equipment we might have to alter or incorporate into development," Clark said.