ANNAPOLIS, Md. – The Navy is planning to issue a draft request for proposals (RFP) for a common medium unmanned underwater vehicle (MUUV) by the end of this calendar year, a service official said Wednesday.
The Navy intends for the MUUV to be a single vehicl,e deployed from both surface and undersea platforms, with different plug-in capabilities and payloads to conduct different missions. The service is currently leveraging two current programs in the upcoming solicitation: Razorback and the Mk 18 Mod 2 Kingfish UUVs. Razorback is run by the service's PMS-406 organization while PMS-408 manages the Mk 18.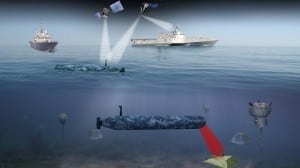 "So the Medium UUV is going toward a common vehicle. One vehicle that can be deployed from the submarine, the Razorback, or from a surface craft for expeditionary warfare purposes, which is the Mk 18 program," Howard Berkof, deputy Program Manager of Unmanned Maritime Systems (PMS 406), told reporters here at a National Defense Industrial Association conference.
Currently, the Navy has been working on the Mk 18 for a mine warfare countermeasures mission and the Razorback for sensing capability.
Last month, the Navy posted a
notice to FedBizOpps saying it intends to award multiple contracts for the design, development, and production of the MUUV. That notice said the vessel would be a modular, open systems and open architecture vessel used to provide persistence surface launched and recovered mine countermeasures and submarine-based autonomous oceanographic sensing/data collection (Defense Daily, Sept. 12).
The original notice said the Navy expected to release the final RFP in fiscal year 2020 and intends to host an Industry Day in November or December.
"We're getting very close to posting some draft RFPs…and then we intend to hold an Industry Day. We're targeting the end of November to have an Industry Day in which we'll communicate to industry exactly what our acquisition strategies we'll be looking for to buy and how we're working with both programs," Berkoff said.
He added that while the market team includes PMS-408 for Mk 18 and PMS 406 for Razorback it includes a third piece from Program Executive Office Submarines.
"And they're helping us actually integrate Razorback from the submarine. So, for torpedo tube launch, that is a significant leap in capability."
While launching the MUUV from a submarine is reltively easy, "recovering it is hard so we're working through that technology effort," Berkoff continued.
He said the offices are also working to integrate Lithium Ion batteries into the MUUV as another joint effort.
The Snakehead Large Displacement UUV program is already adding Lithium Ion batteries "so that's our first foray in integration from the submarines, so we have other programs that we're leveraging with each other," Berkoff said.
The Snakehead is planned to include anti-submarine warfare and some anti-surface warfare payloads.