ANNAPOLIS, Md. – The Navy expects the submarine community to increasingly take the lead in offensive mine warfare going forward, a service official said here Tuesday.
"The submarine community has not been very engaged in mining in the past; that is changing. They're getting very interested," Capt. Chris Merwin, Director for Mine Warfare at the Surface and Mine Warfighting Development Center (SMWDC), said at a National Defense Industrial Association event on Tuesday.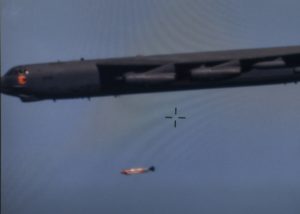 Currently, the Navy's offensive mine warfare is focused on air-delivered Quickstrike "dumb bombs" and "a few submarine-launched mobile mines," Merwin said.
This specifically covers the air-delivered Mk 62, Mk 63, and Mk 65 Quickstrike mines and the clandestinely delivered Mk 67 Submarine Launched Mobile Mine (SLMM).
Merwin explained SMWDC owns the five officials that work on mine warfare plans. "We write all the minefield planning folders for the systems that we have right now." However, he said, "that is changing big time."
"I think the Extra Large UUVs [unmanned undersea vehicles] and even some changes to make submarine-launched mines – that is the future of it so I think submarine force will be very much more engaged," he continued.
"In fact, it's quite likely that they're going to own it, at least on the man-train-equip side."
However, the Navy is still working through who will own the command and control side of offensive mine warfare.
"We're gaming that at the NWDC [Navy Warfare Development Command] in the next month."
For now, Merwin's SMWDC still has ownership over offensive mines, but "in the future I may or may not."
He noted the Office of Naval Research has been involved in future mine warfare and testing various capabilities and "the future of mining will be UUV clandestinely-launched mines, and that's probably as much as I can say right here."
Merwin said that in any event, his office will always have some sort of connection to it as mine warfare, "but the submarine community is definitely taking a much larger ownership of that than in the past."
Separately, Sam Taylor, Senior Leader for Mine Warfare at Program Executive Office Unmanned and Small Combatants, said the service is using accelerated acquisition programs for newer mine capabilities.
The Navy is developing several new mine capabilities including the Quickstrike Joint Direct Attack Munitions (JDAM) (Quickstrike-J), Quickstrike Extended Range (ER), clandestinely delivered mine (CDM) Mk 68, and the Hammerhead mine using an encapsulated Mk 54 torpedo effector.
The Quickstrike-J uses the JDAM tailkit, allowing it to be deployed from high altitudes with accuracy and the ER extends the range. The changes will increase the standoff and precision safety. The Navy conducted an operational demonstration during Valiant Shield 18 and a second unnamed operational demonstration.
Taylor explained the Hammerhead "is a maritime accelerated acquisition program so it is being done a little bit different. We're taking advantage of some of those authorities that were given earlier."
He noted Hammerhead is the "newest addition to the mine family." The program began in 2018 and features a modular architecture approach, allowing for future technology insertions.
He added it is an MAA [Maritime Accelerated Acquisition] program and they have some Other Transaction Authorities now for sensors and are moving forward with a development program.
MAA programs are designated by the Navy's Accelerated Acquisition Board of Directors to provide the same accelerated acquisition authorities granted by Congress to other acceleration efforts but also receive the highest-priority funding and opportunity to compete for rapid prototyping, experimentation, and demonstration funding.
The CDM Mk 68 is currently undergoing prototype testing and the Navy plans initial delivery in FY 2020.
Taylor emphasized "a resurgence in mining has taken place in the last few years" as the Navy pivots to near-peer adversaries as outlined in the National Defense Strategy.
"However, we're trying to pivot smartly, deliver the capability the warfighter needs as quickly as we can. So we're trying to use whatever authorities are there, whatever things we can."
Beyond Hammerhead being designated an MMA "we're looking at other tools in the toolbox to accelerate that delivery."