The Navy intends to award multiple contracts for the design, development, and production of the Medium Unmanned Underwater Vehicle (MUUV), it said in a new presolcitation notice posted Thursday.
The notice, posted to FedBizOpps, explained the MUUV will be a modular, open systems, and open architecture unmanned vessel. The service intends it to provide "persistent surface launched and recovered Mine Countermeasures (MCM) and submarine-based autonomous oceanographic sensing/data collection in support of Intelligence Preparation of the Operational Environment (IPOE) and MCM."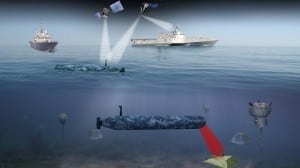 The Navy describes MUUVs as having a diameter between 10 and 21 inches. MUUVs currently undergoing design and testing are the Mk18 Mod 2 Kingfish, Knifefish, and LBS-AUV(S) Razorback.
Naval Sea Systems Command (NAVSEA) expects initial MUUV production systems to support expeditionary MCM companies while additional deliveries will support submarine-based autonomous oceanographic sensing/data collection in support of IPO and MCM.
The notice said the Navy expects to release the final Request for Proposals (RFP) some time in fiscal year 2020.
The posting highlighted Program Executive Office Unmanned and Small Combatants' (PEO USC) Unmanned Maritime Systems Program Office (PMS 406) and NAVSEA 06 Expeditionary Missions Program Office (PMS 408) plan to host an Industry Day to discuss NAVSEA requirements for MUUV development in November or December in Washington, D.C.
The Navy said the purpose of the industry day is "for the Government to brief interested contractors in order to improve Industry's understanding of the MUUV prototyping requirement and anticipated contracting approach."
Registration forms and the exact address information will be provided to pre-registered and confirmed companies.
The Industry Day is planned to be held in the Washington, D.C., metropolitan area in the November/December 2019 timeframe. The MUUV Industry Day Registration Form and the exact address will be provided via separate correspondence to pre-registered and confirmed companies only. Pre-registration is required to attend Industry Day. Walk-ups are not allowed.
This notice comes a few weeks after General Dynamics' [GD] Knifefish surface mine countermeasure UUV program won Milestone C approval and received a five-unit low-rate initial production order (Defense Daily, Aug. 26).