After earning Milestone C approval from the Navy, the General Dynamics [GD] Knifefish surface mine countermeasure unmanned undersea vehicle (UUV) program won a five unit low-rate initial production (LRIP) order, the service said on Monday.
The Knifefish is designed to be deployed from Littoral Combat Ships (LCS), vessels of opportunity, or from shore to find and classify buried, bottom, and volume mines in high-clutter environments. It is a major element of the LCS Mine Countermeasures Mission Package (MCM MP).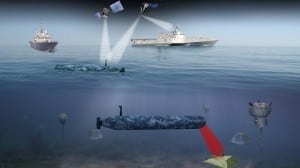 The system is made of two UUVs with support systems and equipment. It uses low-frequency broadband sonar and automated target recognition software developed by the Naval Research Laboratory. Together it acts like an off-board sensor so a host ship can remain outside the perimeter of a mine field.
After Milestone C was issued, the Navy awarded Knifefish prime contractor General Dynamics Missions Systems a $44.6 million modification for five low-rate initial production (LRIP) units of the Knifefish Surface Mine Countermeasure UUV (SMCM UUV). Work will be split largely among Quincy, Taunton, and Braintree, Massachusetts, and is expected to be finished by August 2021.
The service said the LRIP work "will provide the initial systems for the Navy to test and operate."
The decision for full-rate production is expected in fiscal year 2022 after further testing of the LRIP systems. The Navy plans to procure 30 vehicles total; 24 supporting LCS MCM MP and six to be deployed from vessels of opportunity.
The service underscored the Knifefish uses common open systems architecture design and modularity, allowing it to be used form various platforms and fast reconfiguration of the mission package. This allows it to "respond to evolving and dynamics mission requirements," the Navy said in a statement.
The Navy plans future block upgrades to further improve the sensors and target recognition software to keep up with advancing mine threats.
Formal Developmental Testing and Operational Testing was conducted from January to May off the coast of Massachusetts and Florida, involving end-to-end operational mine hunting missions in a simulated minefield. During these tests, personnel performed mission planning, launch and recovery, monitoring sorties and processing data. The Knifefish was deployed in the vessels of opportunity configuration in all test events.
Knifefish completed shipboard integration testing on the USS Independence (LCS-2) in January (Defense Daily Jan. 25).
Knifefish is based on the Bluefin Robotics Bluefin-21 vehicle. It first underwent contractor trials in 2017 (Defense Daily, Oct. 26, 2017)
The Navy expects to achieve Initial Operating Capability (IOC) with in FY 2020 (Defense Daily, May 23, 2018).
Along with Knifefish, the LCS MCM system includes the Textron [TXT] Common Unmanned Surface Vessel (CUSV) towing systems like the unmanned surface sweep system and Raytheon [RTN] AQS-20 mine hunting sonar, Sikorsky [LMT] MH-60 helicopters equipped with the Northrop Grumman [NOC] AN/AES-1 Airborne Laser Mine Detection System (ALMDS) and Raytheon AN/ASQ-235 Airborne Mine Neutralization Systems (AMNS), and the Northrop Grumman MQ-8B Firescout unmanned helicopter.