The Navy on Friday said it completed a "tech refresh" of its financial management systems, migrating them to a commercial cloud system on Aug. 19, the service said on Friday.
Navy Enterprise Resource Planning (ERP) tracks almost $70 billion and manages over half of the service's finances and logistical transactions. Previously, it was operated on a Systems, Applications, and Products [SAP] server-based Oracle [ORCL] platform but in moving to the cloud it was upgraded to the SAP High-performance Analytic Appliance (HANA) cloud-based platform.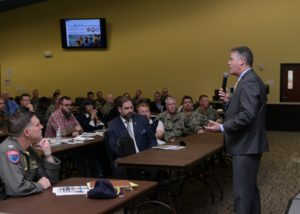 In this instance, the system moved to the Amazon Web Services' [AMZN] GovCloud. This transfer was part of a larger $100 million modernization contract that covers a technical refresh and overhaul of business processes. The Navy awarded this migration to prime vendor Advanced Solutions Inc., a small business, which worked with unspecified larger partners to work the transition.
"The Navy ERP tech refresh is a major milestone toward consolidating all Department of the Navy (DoN) financial systems into a single general ledger, which is essential to the department's ability to produce accurate financial information, obtain a clean audit opinion, and improve our data analytic capability," Thomas Harker, Assistant Secretary of the Navy for Financial Management and Comptroller (ASN (FM&C)), said in a statement.
The service underscored this migration occurred 10 months ahead of schedule, or in about half the time planned, after three years of planning, preparation, transfer, and launch.
That speed was due to using "innovative contracting procedures so this entire effort got on contract from a cold start in 45 days. We used a GSA vehicle. We leveraged [the] small business [Advanced Solutions Inc.] to give us adaptability & speed," the Navy's top acquisition official James Geurts told reporters Friday.
"We were able to do our cyber testing to make sure we had appropriate rigger and engineering. We did that in less than half the time we previously have done that by having good engineering rigor, building all the cyber support stuff as we went and really leveraging modern practices there," he said.
Then, when the Navy did the transition, it took three days when they had planned for four.
ERP is deployed to about 72,000 users across six Navy commands: Naval Air Systems Command (NAVAIR), Naval Information Warfare Systems Command (NAVWAR), Naval Sea Systems Command (NAVSEA) Naval Supply Systems Command, the Office of Naval Research (ONR), and Strategic Systems Programs (SSP).
Now that it is cloud-based the Navy ERP is operating "significantly faster in memory, data storage and processing," the service said.
For example, "we have reports that were taking us five, six hours to run. We can now do them in 30 minutes. So that's the quantifiable test results after going live that we found within the last couple of days," Harker told reporters.
He anticipates "incredible speed" across the board as personnel enter contracts, invoices, and manage the whole budget execution process in the Navy ERP. Similarly, logistics will be faster too.
"We had challenges with the ERP at different times during financial reporting and then also during logistics. There were times when it went down. We had to take a four-day drop last November, which we had to do workaround for priority requisition, so this will give us more capability to avoid some of that," Harker said.
Geurts expects this improved system to add efficiency across the board by increasing transparency and the ability for end-users to get close to real-time data.
"So if I can now understand much more quickly what my inventory is, what my financial status is, what my availability of either of those, then I can start making much more rapid decisions, which then will translate to – on the flight line or on the pier much better, I think support over time," Geurts said.
Geurts confirmed the Navy is not waiting for the delayed JEDI contract process to start moving systems to the cloud, even if the cloud provider changes later.
"I think once you convert your architecture to a cloud-based architecture, the cloud provider becomes a lot less of a challenge," he told reporters.
"It kind of decouples the application from the infrastructure and gives us a lot more flexibility as we go forward, whether it's JEDI, or whatever other cloud-based system we decide to ride on," he added.
The next phase in moving to a single general ledger across the Department of the Navy financial systems is to start moving six working capital fund entities not currently on ERP.
Harker said the first migration is scheduled for Oct. 1, another one in the October/November timeframe, two more in spring 2020, and then the last two in October 2020.
"So by a little over a year from now we should have all the working capital fund in our ERP system. At that point we'll also being moving the general fund activity."
While about half of the general fund activity is currently in ERP, the other half is converted from legacy systems into SABRS, originally a Marine Corps system.
"The schedule for that is not as firm but we are definitely looking at trying to get it all in by the end of 2022. At the same time we're making some changes to the system, just in our business processes work. Standardizing some of those, doing some reengineering work, looking at how we can optimize that so that it's only done one way across the DoN as opposed to having multiple different processes," Harker added.
The Navy ERP is managed by the Navy Enterprise Business Solutions program management office within Program Executive Office for Enterprise Information Systems (PEO EIS).
PEO EIS head Ruth Youngs Lew noted in a statement the ERP move to the cloud also "supports the goal to accelerate enterprise cloud adoption. We are already seeing significant benefits in performance such as report runtimes."
NAVSUP Business Systems Center develops and sustains the Navy ERP in support of PEO EIS, supporting ERP business operations and functional procceses.