The Navy is looking at a three-step approach in procuring unmanned vessels in its 30-year long-range shipbuilding plan, service officials said Wednesday.
The Navy's top civilian acquisition official told reporters during a phone roundtable on April 20 that over near-term the service is aiming to mature unmanned surface and undersea technologies, experiment with them, learn how to operate them as unmanned operations, then move on to operating as manned-unmanned teams. This experimentation is relegated to the next five to 10 years over the five-year Future Years Defense Program (FYDP).
"We're doing a lot right now on operating as unmanned, in the next couple of years we're going to do a lot of the experimenting as a team, a manned-unmanned team…then toward the end of the FYDP and the next FYDP would be where we start to invest in actual programs of record in hardware and software combinations going forward," Jay Stefany, Performing the Duties of Assistant Secretary of the Navy for Research, Development and Acquisition, told reporters during a telephone roundtable.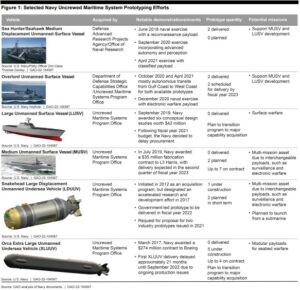 "So that in the '30s we can then go to scale and start building at scale. So that's kind of a three-step approach and I think our documents and our budget reflect that three-step approach," he continued.
The Navy's latest 30-year shipbuilding plan, released on April 20, does not include unmanned vessels in the overall battle force ship count like some past plans but has total unmanned vessel numbers in line with past estimates.
"In addition, unmanned platforms will achieve 89-149 platforms in FY2045 without real budget growth. Future force levels will be adjusted as the capabilities of unmanned platforms develop and are integrated into the battle force," the report said.
This is a slight increase over the FY '21 30-year plan, which named possible ranges of 59 to 89 unmanned surface vessels and 18 to 51 unmanned undersea vessels, for a total of 77 to 140 unmanned vessels (Defense Daily, June 21, 2021).
The 10-month delayed FY '20 30-year shipbuilding plan, the final one of the Trump administration, projected the Navy would field 119 unmanned surface vessels (USVs) and 24 unmanned undersea vehicles (USVs) by 2045, for a total of 143 unmanned vessels (Defense Daily, Dec. 10, 2020).
Vice Adm. Scott Conn, Deputy Chief of Naval Operations for Warfighting Requirements and Capabilities, N9, also confirmed to reporters that the range of 89-149 vessels is maintained across all three options presented in the shipbuilding plan.
The document includes two options with no increased shipbuilding funds and a third with $75 billion in real growth after the FYDP in constant FY 2022 dollars.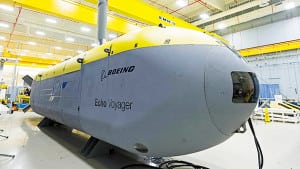 When pressed, Conn said under the third plan with boosted funding, the unmanned numbers "would probably fall in the same range of 89-149, probably closer to the 149."
Conn also highlighted that "understanding the software development is critical" as the Navy develops unmanned vessels in the shipbuilding profile plans.
"You have the FYDP and then you have this transition phase for five years. That is all about planting the seed corn to make sure we have the software development work done before we get into the Force Design phase, which is about a hybrid fleet that starts in 2032 and out," Conn said.
He added this does not mean the Navy will wait until 2032 to start adding unmanned vessels to the fleet.
"As technology is mature, we will put it into the fleet. But that shipbuilding plan gives you a road map, the types of things we're trying to do and our priority of effort because what we cannot accept is to have concurrent software development and hardware development at the same time. We have get in front of the software."