The top Republicans on the Senate and House Armed Services Committees urged the Biden administration on Thursday against cutting recently approved nuclear modernization efforts as part of its upcoming Nuclear Posture Review. 
Sen. Jim Inhofe (R-Okla.) and Rep. Mike Rogers (R-Ala.), the ranking members on SASC and HASC, respectively, released the statement following a new Politico report that Biden is potentially considering ending programs approved or revived during the Trump administration, to include development of a nuclear sea-launched cruise missile and deployment of the W76-2 low-yield, submarine-launched warhead.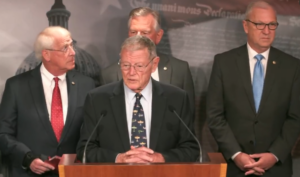 "Reports that the Biden administration is considering abandoning long-overdue and much-needed improvements to our nation's nuclear deterrent – when China is massively expanding its nuclear arsenal, North Korea is flagrantly violating UN sanctions on its missile program, and Russia is poised to launch the largest invasion in Europe since World War II – are profoundly concerning, and if true, would only invite further aggression," Inhofe and Rogers wrote in a joint statement.
The report noted the Biden administration may also consider reinstating a directive to retire the B83 megaton gravity bomb, which was reversed during the last administration.
Inhofe and Rogers note the three nuclear modernization programs, while advanced during the Trump administration, have received "overwhelming bipartisan majority" support and were included in the recently passed fiscal year 2022 National Defense Authorization Act.
"It's almost incomprehensible that even now, in spite of mountains of evidence to the contrary, bipartisan congressional, allied and expert opposition, and a security environment that seems to get worse by the day, the Biden administration continues to look for opportunities to weaken the ultimate guarantee of our nation's and our allies' security. Again, we strongly urge the administration to listen to the combined voices of Congress, U.S. allies, and our nation's foremost defense experts and continue the current nuclear modernization programs and policies," Smith and Rogers wrote.
The White House, however, is reportedly not considering cuts to major, multi-billion dollar nuclear modernization programs, such as the future Ground-Based Strategic Deterrent (GBSD) intercontinental ballistic missile or the new Columbia-class nuclear submarines.
Rep. Adam Smith (D-Wash.), the HASC chair, has said previously he does not expect the Biden administration's Nuclear Posture Review, potentially set to be released in February, to deviate greatly from the nuclear modernization agendas proposed by the Obama and Trump administrations (Defense Daily, Dec. 7 2020). 
Smith, however, has urged the White House to use the review as an opportunity to assess the necessity of its full range of nuclear modernization efforts, to include options that may reduce requirements for growing the U.S.' nuclear arsenal, reviewing the necessity for the land-based leg of the nuclear triad, validating cost estimates for the GBSD program and determining whether future long-range conventional weapons could reduce the need for certain nuclear weapons (Defense Daily, Aug. 9 2021). 
"The last decade has taught us, painfully, that we cannot afford to continue adding new requirements, capabilities, and platforms, and expect that they will be delivered on time and within budget while we also modernize the infrastructure necessary to produce and sustain such capabilities. It is simply acknowledging reality that we must make hard choices," Smith wrote in a letter to Biden from last August.