The Army is planning to deliver its first set of four Stryker-mounted 50-kilowatt laser prototypes by the end of September, a lead official said Wednesday.
Lt. Gen. Neil Thurgood, director of the Army's Rapid Capabilities and Critical Technologies Office, also said the Directed Energy Maneuver Short-Range Air Defense (DE M-SHORAD) systems, now also called "Guardian," will go through additional testing starting this month through early February at White Sands Missile Range in New Mexico.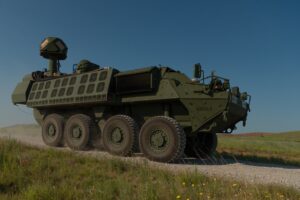 DE M-SHORAD is intended to deliver an on-the-move laser system capable of taking down unmanned aerial systems, rotary-wing aircraft and rockets, artillery and mortars, with Thurgood noting the first set of prototypes will go to a unit at Fort Sill in Oklahoma.
Kord Technologies is providing the 50 kilowatt laser for DE M-SHORAD, and in August the Army officially selected Raytheon Technologies [RTX] to serve as the laser module integrator for the prototypes (Defense Daily, Aug. 18). 
In November, the Army announced plans to award Kord Technologies another prototype deal to deliver eight additional DE M-SHORAD prototypes, with four to be delivered in fiscal year 2023 and four more in FY '24 (Defense Daily, Nov. 19). 
Thurgood discussed the potential for a 50-kilowatt laser system on a Stryker to serve an offensive mission in the future as well, noting the Army may look into the option.
"I think there's definitely a future for that. I'm not sure we have defined that very well." Thurgood said. "We have a lot to learn and I'm not sure we know all the answers. And that's okay. We don't have to know them all right now."
Thurgood also specified that he views directed energy as a key component for future operations, but not one that will address the full slate of the Army's potential challenges.
"[Directed energy] is not going to solve all the problems we have. It's another arrow in the quiver to allow our soldiers to engage the enemy on the battlefield," Thurgood said. "If you're going to kill, say, a large helicopter, between a Stinger [missile] and high-energy laser, you probably want to shoot it with a Stinger. If you want to kill a Group 1, 2, or 3 UAS, you probably want to kill that with a high-energy laser. It's much cheaper to do it that way."
The DE M-SHORAD program will eventually transfer over to the Army's Program Executive Office Missiles and Space, which will then likely conduct a full and open competition for the eventual production contract.
Lockheed Martin [LMT] said in October it is developing the Directed Energy Interceptor for Maneuver Short-Range Air Defense System, or DEIMOS, in pursuit of the expected DE M-SHORAD production competition in FY '23, with plans to demonstrate the capability in late 2022 (Defense Daily, Oct. 11).