Mack Defense said Wednesday the Army has placed an order for nearly 100 of the new M917A3 non-armored heavy dump trucks (HDT), following the completion of a successful testing period.
The order, which was awarded in November, is part of a potential $296.4 million deal with the Army covering delivery of more than 680 trucks.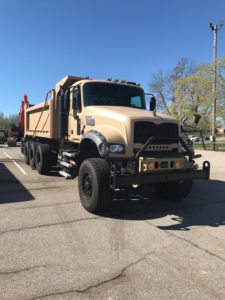 "This order signifies the successful testing of non-armored and armored vehicles that we conducted in 2018 and 2019. We are proud that Mack Defense was chosen to fulfill the needs of the U.S. Army and support our armed forces," David Hartzell, president of Mack Defense, said in a statement. 
Delivery of the new trucks is slated to begin this May and will cover vehicles for the Army and Army Reserve, according to Mack Defense.
The Army received its first batch of Mack Defense's trucks in 2019, ultimately receiving 12 vehicles that underwent a 40-week durability testing program.
The M917A3 is set to replace AM General's MM917, which has been in service for more than 40 years, with Mack Defense previously telling Defense Daily the total acquisition objective could reach about 1,221 HDTs (Defense Daily, April 12 2019). 
The new HDT is based on Mack Defense's Granite civilian model upgraded with heavier-duty axles, all-wheel drive and increased suspension ride height, according to the company.