The U.S. Navy and Boeing [BA] are co-developing a ramjet flight demonstrator missile while the service works toward a future aircraft carrier-based weapon, the company said Tuesday.
Boeing won a $30 million contract to co-develop the Supersonic Propulsion Enabled Advanced Ramjet (SPEAR) flight demonstrator with the Navy's Air Warfare Center Weapons Division (NAWCWD).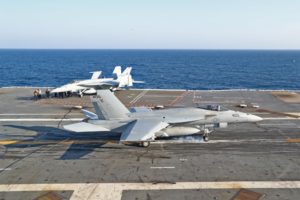 Boeing and the Navy said they plan to fly the SPEAR demonstrator in late 2022.
"The SPEAR flight demonstrator will provide the F/A-18 Super Hornet and carrier strike group with significant improvements in range and survivability against advanced threat defensive systems," Steve Mercer, Boeing's SPEAR program manager, said in a statement.
"We have a talented team of engineers to meet the challenging technical demands and schedule timeline that the SPEAR program requires. We look forward to working with Navy experts to advance technologies for the Navy's future capabilities," he added.
Boeing spokesman Justin Gibson told Defense Daily the company is working on the project out of its Phantom Works division, clarifying it will be a "high supersonic" and not hypersonic weapon demonstrator.
The company noted it previously developed supersonic and hypersonic technologies like the unmanned hypersonic X-51 Waverider test vehicle in 2010 and the variable flow ducted rocket propulsion system under the triple target terminator program in 2014.
Boeing said this latest award came after the Defense Department requested information from industry to help the Navy determine technical requirements for future carrier-based land and sea strike weapon systems.
Indeed, in March NAWCWD China Lake, Calif., posted a Request For Information seeking propulsion vendors to transition a government-designed Solid Fuel Ramjet (SFRJ) propulsion section while also continuing development through heavy weight and flight weight manufacturing, inspection and testing.