The Army announced Thursday it has selected six small businesses to assist in the service's move toward electric vehicles (EV) by refining concepts that will allow for electric recharging on the battlefield.
Each of the firms participating in the Power Transfer Cohort received $100,000 to work on its idea before presenting concept designs to Army officials in late May.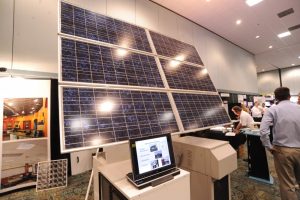 "The Cohort Program connects qualified companies that may not typically work on DoD problems with Army stakeholders who want to speed capability development, transition to Soldiers, or de-risk and inform requirements," the Army wrote in a statement. "The Power Transfer Cohort will support the Army in its modernization strategy by developing EV infrastructure in remote locations for the Army's ~225k vehicle fleet."
The six companies are electronic control systems designer Coritech Services, mechanical engineering firm Czero, EV technology supplier Fermata Energy, modeling and simulation designer PC Krause and Associates, direct current fast charger manufacturer Tritium Technologies and Wright Electric, a developer of lower-emissions air travel technology.
Army officials have said previously the ongoing push toward vehicle electrification is aimed at meeting the burgeoning commercial sector effort and could be a means to significantly reducing overall vehicle maintenance and fuel consumption costs while adding increased reliability and improved performance.
However, officials have noted the significant challenge of figuring out how vehicles can be charged in austere environments without existing infrastructure.
The Army is currently working on several other cohort initiatives, to include the Fire Faster program where five firms were recently selected to refine concepts for delivering a faster rate of fire for the future Extended Range Cannon Artillery (ERCA) system (Defense Daily, April 16).
"Last year, we launched and validated this new Cohort Program approach. We know it works, and we're already seeing the results for our Army mission partners," Col. Len Rosanoff, director of the Army Applications Laboratory, said in a statement. "The Power Transfer Cohort is a chance to show that this model can scale across the Army to solve other complex problems. This approach will make the Army a better business partner for industry. And we want others in the Army to know they can do this, too."