The House on Thursday evening passed its nearly $840 billion version of the fiscal year 2023 National Defense Authorization Act with a bipartisan 329 to 101 vote.
Lawmakers advanced the bill after two days of floor debate and consideration of 650 amendments, a new record, to include adopting an increase to the number of F-35Cs authorized in the bill and measures requiring the Navy to report on long-term contracting strategies.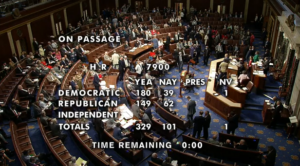 "[That's] a record we weren't necessarily looking to set but it does reflect the participation in this process from this entire body for an incredibly important piece of legislation," Rep. Adam Smith (D-Wash.), chair of the House Armed Services Committee (HASC), said on the floor Wednesday ahead of the start of debate.
Ultimately, 180 Democrats and 149 Republicans voted to pass to defense policy legislation while 39 Democrats and 62 Republicans opposed the bill.
The House's FY '23 NDAA includes a $37 billion topline increase over President Biden's requested budget figure, after HASC adopted the provision during its committee markup last month (Defense Daily, June 22).
The topline increase amendment, proposed by Reps. Jared Golden (D-Maine) and Elaine Luria (D-Va.), supports $7.4 billion for dealing with inflation impacts, $550 million more for the Ukraine Security Assistance Initiative, $660 million to procure eight additional F/A-18s and $3.5 billion to build five additional ships, including one DDG, one FFG, one T-AO oiler and two more Expeditionary Medical Ships, as well as blocking the planned retirement of five Littoral Combat Ships (LCS).
Lawmakers voted down two amendments led by progressive Reps. Barbara Lee (D-Calif.) and Mark Pocan (D-Wis.) that aimed to cut the bill by $100 billion and another that would have reversed the $37 billion topline increase (Defense Daily, July 14).
The House did move to adopt an amendment authorizing $354 million for three more F-35Cs for the Navy, offsetting the cost with a reduction from Operation and Maintenance accounts.
Rep. Michael Waltz (R-Fla.), the top Republican on the HASC Readiness Subcommittee, said he supported increasing the F-35C procurement level while adding he viewed pulling from O&M accounts as "robbing Peter to pay Paul."
"I have no issue, in principle, with more Joint Strike Fighters. We need more Joint Strike Fighters and we need to continue to modernize our aviation fleet. My issue here is where the money for it comes from," Waltz said.
The F-35C provision was part of a larger amendment package adopted by voice vote that also included a measure directing the Air Force to submit a report on divestment plans for F-15 aircraft and another call for information on potential alternatives to the Navy's planned development of the Sea-Launched Cruise Missile-Nuclear (SLCM-N).
During its committee markup, HASC moved to restore $45 million in funding to continue SLCM-N development, reversing the Navy's proposal to cancel the program (Defense Daily, June 22).
A separate amendment package approved Thursday included two measures from Luria that require the Navy Secretary to submit a report on the cost and feasibility of a two- and three-year advanced procurement strategy for the next two Ford-class carriers, to include analyzing benefits of a two-carrier buy over a single-carrier procurement, and a separate report from the Navy on the service's multiple award contract-multi order strategy in the long term.
Rep. Rob Wittman (R-Va.), ranking member on the HASC Seapower and Projection Forces Subcommittee, also had a provision adopted as part of an amendment package that would prohibit the Navy's retirement of Littoral Combat Ships unless the ships are transferred to an ally or partner nation's military.
During floor debate, the House voted 208 to 221 against an amendment from Smith that would have allowed the Navy to retire nine LCSs.
The House also voted 244 to 179 in favor of an amendment that places restrictions on the U.S.' ability to sell F-16 fighter jets to Turkey (Defense Daily, June 14).
The Senate must still take up the Senate Armed Services Committee's $847 billion version of the bill, advanced out of committee last month, and then both chambers will meet in conference to settle differences for a final version of the legislation.